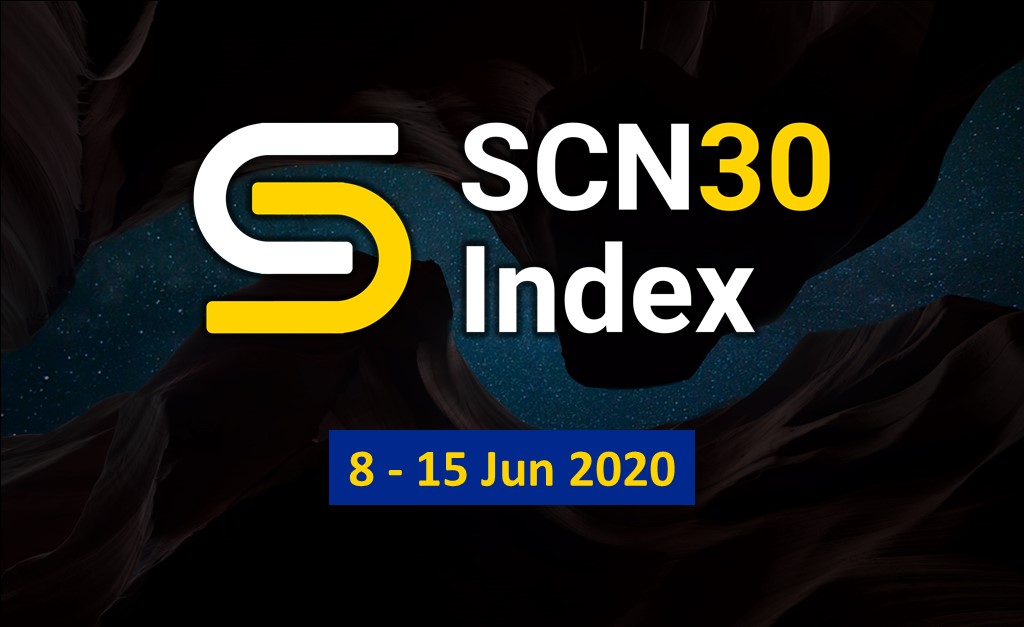 Above: Screengrab of SCN30 graph here.

Bitcoin seems to be hovering around US$9,000 for now and the market sentiments are that it will not be breaking US$10,000 until the end of the year. However, it is also speculated that US$11,300 to US$12,000 are the next targets traders are looking at.
Bitcoin dropped by US$300 since its price surge on 1st June breaking US$10,000, briefly bouncing back on 2nd June. SCN30 index, however, bounced back since its drop on 2nd June to be 1 point higher than its price surge on 1st June. Ethereum has been bullish on an ascending trendline, contributing greatly to SCN30 index's position.

Above: Screengrabs of SCN30 list here.

This week, other altcoins seem to be less volatile and have shifted by only 1 position. Overall, most constituents seem to be on price gains. Notably, Hedgetrade (HEDG) is up on the 20th position on our constituent list. This comes after the crypto prediction social marketplace's partnership with Bittrex for a US$5 million giveaway.
June 2020: Less Project Activities
April and May were certainly active months for altcoins, giving volatility. We witnessed project activities such as Chainlink's verifiable randomness function, Maker's Coinbase listing, the launch announcement of Cardano's Shelley mainnet, and more. This month, it seems like activities have come to a standstill, and hence, a stagnation of altcoin price activities. For our SCN30 index supporters, let's not forget that Ethereum is pushing forward in an upward trend.
You may also want to read: The Dangerous Gap: Where Will Crypto Street Go with the Decoupling Between Wall & Main Street?