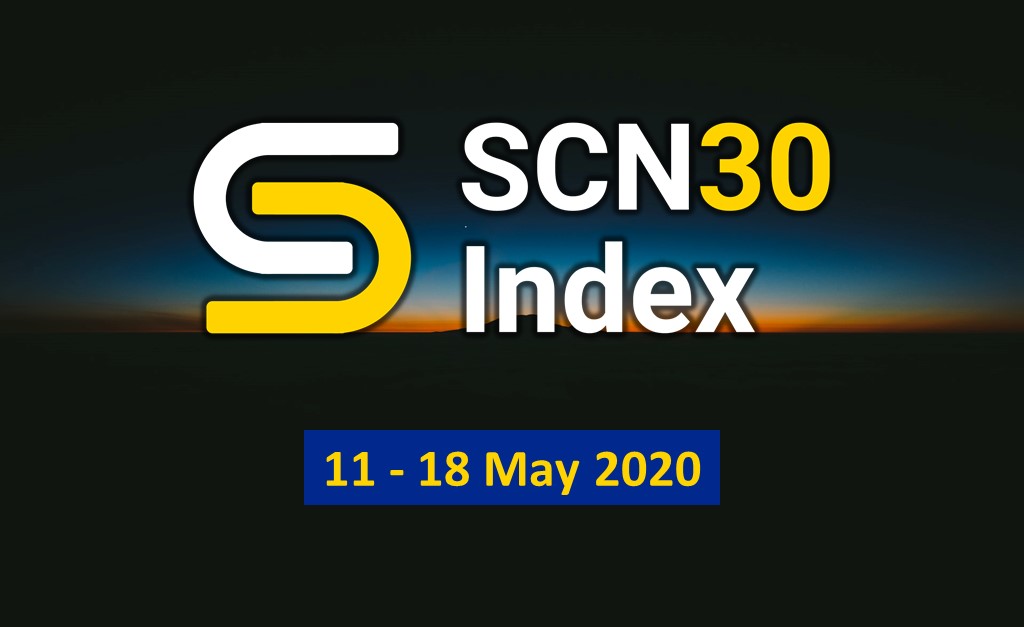 Above: Screengrab of SCN30 graph here.

We have indicated SCN30's weekly highest and lowest for a better gauge across the timeline. This week, SCN30 is at 133.52 which brings us back to where we were on 24th April. This follows Bitcoin's huge crash over the weekend, shedding over 10% of its dollar value in just a few hours. And while there are potentially many reasons for this – one of the main factors could be Millennials trading cryptocurrencies for the first time – like those who got burned trading oil.
With expectations that Bitcoin would soar past US$10,000 because of the "halving" – the halving of block rewards for securing the Bitcoin blockchain – many young investors started buying up Bitcoin at around US$9,500 onwards, some along with altcoins for diversification. But when Bitcoin couldn't clear the US$10,000 level convincingly, these young investors panicked, dumping large amounts of cryptocurrencies as quickly as they bought them up – fear and panic are typical responses for inexperienced investors.
With that rout behind us, Bitcoin has returned to its usual bot-traded level of around US$8,500 to US$8,800 on far more muted volumes, which also explains altcoins' drop in prices, hovering around where we were back in late April.
Above: Screengrab of SCN30 list here.
LEO, CRO and TRX hover between positions 10-15 in the last month
Crypto.com Coin (CRO) continues to rise up in position with 0.41% gains, claiming the 13th spot, almost making it to our top 10 constituents. UNUS SED LEO (LEO) has gained 2 positions since and hovers around positions 12-14 in the last month. Similarly, TRON (TRX) has also been fluctuating from position 13 to current 15 in the last 3 weeks, attributed to the 0.09% drop in price – making TRX the constituent with the biggest drop in positions of the week.
Above: Screengrab of SCN30 list here.

End of bullish effect: OKB now in a reversal
Just last week, we covered that OKB has been gaining rapidly through April and early May. This week, OKB is in reversal, falling by 2 positions back to 28, seemingly to readjust itself and stabilizing after its initial price surge attributed to bullish news on crypto balance conversions.
You may also want to read: Bitcoin Halving – Will We Go Straight to the Moon?