After last week's mediocre performance for Bitcoin, the cryptocurrency has gained 5% today past $10,400 against speculations that the market will see a bearish downturn. Some experts suggest that the falling of China Yuan (RMB) against the US Dollar (USD) may have been a factor for the rise in prices today. This week, top Altcoins include ETC, IOTA, ADA, TRX and XLM, with ETC coming out on top at 40% gains over the week as compared to other coins, largely due to the upcoming Altantis hard fork scheduled for September 13.
Bitcoin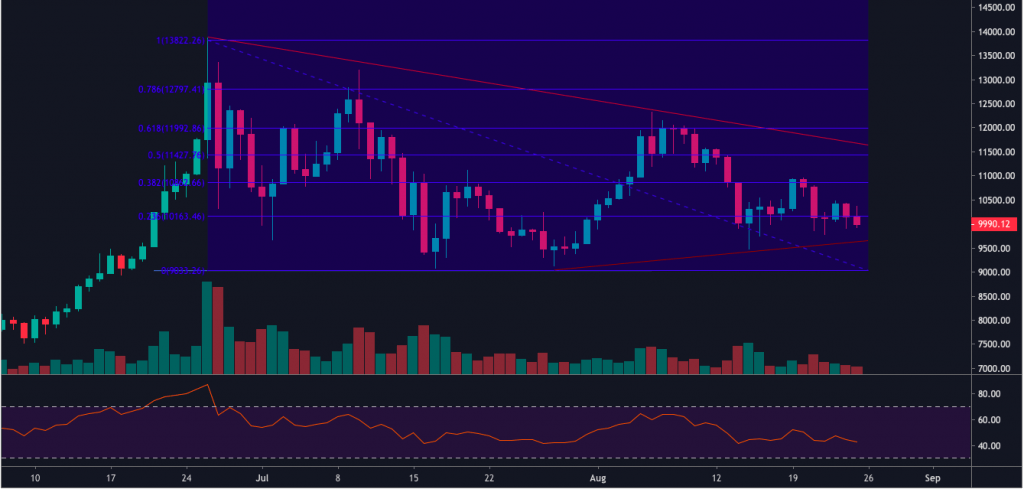 Overview: Sideways, with a higher possibility of an approaching downturn

Although the long-term view of Bitcoin is still a sideway, the price hasn't dropped below $9,000, which is a significant support line. However, the overall prices were unable to reach a new high and break the downward channel, it will continue on its downward trend. The red trendline is a support line for short-term trading, while the RSI continues to decline. Price patterns indicate a price compression in the form of a triangle and we will be able to see clearer market sentiments when the market closes for the week.
Ethereum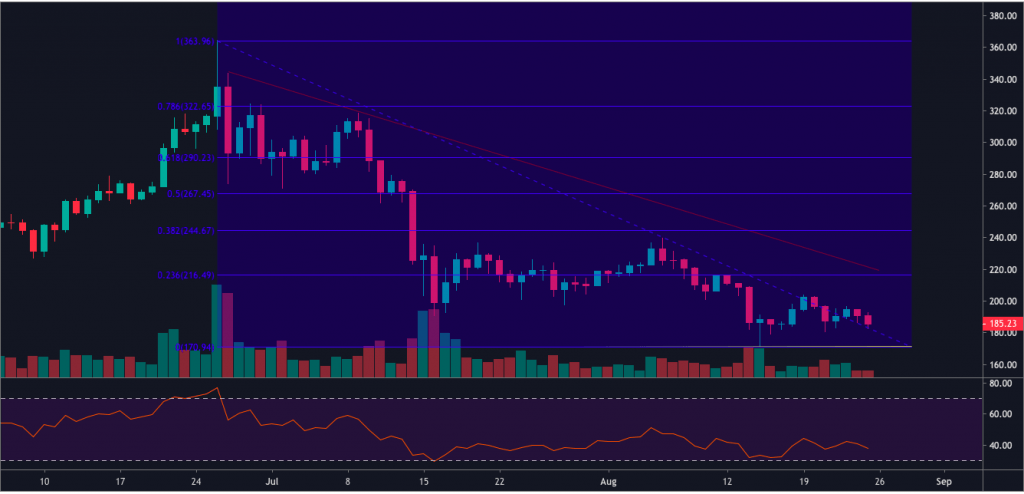 Overview: Downtrend

Prices are still not able to reach a new high and it is almost certain that this downtrend will continue. Even though the price has not dropped to the significant support line at $170 yet, there is currently no clear signal of a price recovery. However, it may be able to trade for short-term trades as patterns have indicated that every time the RSI goes below 30, there is a higher possibility of a price recovery.

We recommend traders to wait to see clear, significant market sentiments this week before buying in. If the price does not drop to a new low and still stands above $170, traders can consider this a buying opportunity.