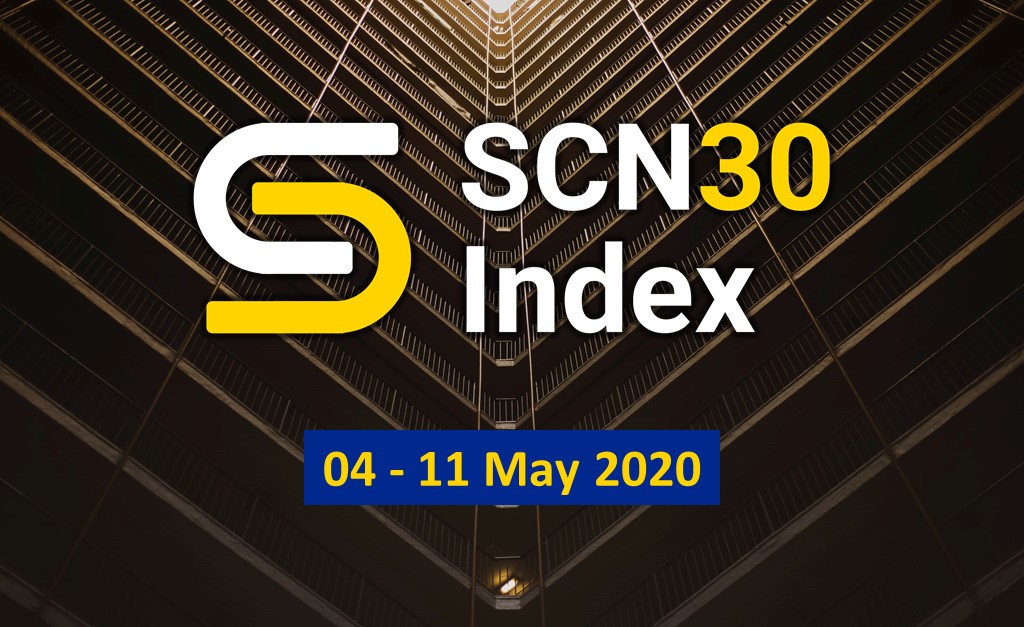 Above: Screengrab of SCN30 graph here.

As predicted previously, the SCN30 index remains to hold an upward trend with 7 points increment from the week before. In approximately 7 days, Bitcoin halving is expected to take place. With this renewed interest in cryptocurrencies, Ethereum (ETH) surged week-high on 29 April with the SCN30 index reaching 151 points.

Above: Screengrab of SCN30 list here.
OKB gaining rapidly while fewer movements between constituents observed
Last week, Cardano (ADA) and Chainlink (LINK) made positive gains while this week, fewer movements between constituents are observed. Huobi Token (HT) continues to drop by another position from last week while Crypto.com Coin (CRO) overtakes.

More notably, we see OKEx's OKB slowly rise up the ranks, gaining 2 positions this week. Just a few days ago, OKB saw 11% increase in its prices. OKB has been highlighted as one of the rising cryptocurrencies with its price surge of about 30% throughout the month of April. This comes after the cryptocurrency exchange's announcement in early April on allowing users to convert supported cryptocurrencies with balances less than 0.001 BTC into OKB. We may continue to see a rise in OKB amongst the bottom half of constituents.
You may also want to read: Amid the COVID-19 Pandemic, is Bitcoin or Gold the Best Investment Vehicle?