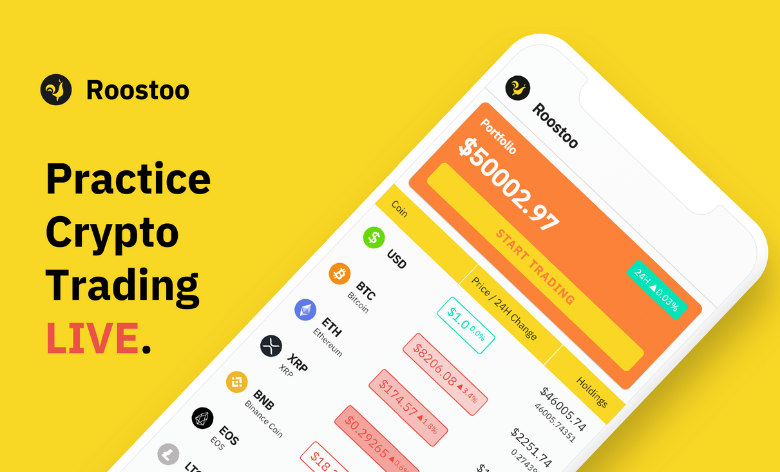 Roostoo (iOS / Android), a simulated crypto exchange mobile app that offers users a virtual portfolio to partake in real-time mock trading, announces fresh updates for users.  
Currently, there is a gap between the industry and non-crypto novices. The mission of Roostoo is to fill the gap and increase public acceptance of cryptocurrencies. Roostoo app was launched in January 2020 and has so far partnered with 30+ universities to conduct mock trading competitions. These competitions attracted a considerable number of student users (4000+ users), many of whom interact with crypto for the first time.
The most recent product updates include three core features that add more value to users and increase user stickiness. Firstly, Roostoo will be launching Regular Competitions for platform-wide and cross-university users to compete. These competitions are a gamification concept similar to Fantasy Football. It allows users to compare their performances against other users and friends within the app leaderboard. Competition feature opens up a portal for university clubs and third-party partners to host their own branded competitions on the Roostoo app.
The second feature is Roostoo Game Tokens – an innovative concept design that will become the backbone of the Roostoo ecosystem. Roostoo allows users to pay-in their game tokens to enter mock trading competitions. After each competition ends, game tokens will be distributed back to users according to their ranking on the leaderboard. Tokenizing the Mock Trading Game encourages users to use the app often because they could be rewarded tokens of potential real-world value. It also expands potential utility for the game tokens, for example, expending for discounts/rewards on third-party products.
The third feature is Social Profile. Social + Fintech is a niche but potentially rewarding combination. To cultivate a sense of identity and belonging in Roostoo, users can set up their profile picture, select their favorite crypto, accumulate app usage statistics, earn badges, win RSTO game tokens, and direct inbox other players. This enables users to discover each other, showcase good traders and earn bragging rights.
Roostoo has added certain features to help beginners navigate the new world of crypto-assets. Users can now visit Roostoo website portal and read a list of curated and quality articles to deepen their understanding of blockchain and crypto-assets. 
For more information on Roostoo, please visit https://www.roostoo.com and download the app:
iOS – https://apps.apple.com/us/app/roostoo-mock-crypto-trading/id1483561353 
Android – https://bit.ly/2zHnMwv
Instagram – https://www.instagram.com/roostoo_crypto/ 
For any inquiries, please contact contact@roostoo.com