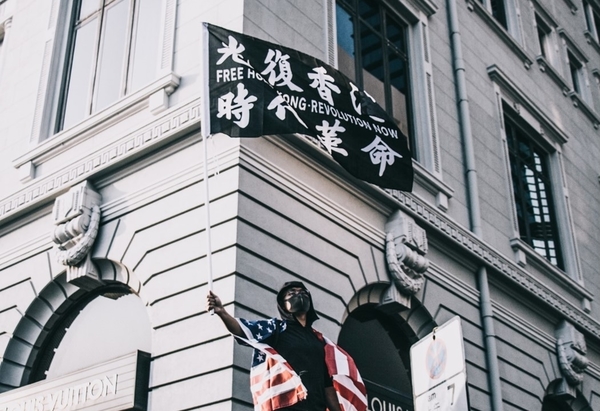 Bitcoin surged almost 5% in the past 24 hours as tensions between the U.S. and China continue to brew.
The National People's Congress (NPC) has approved the controversial national security law for Hong Kong, dealing a deadly blow to the city's autonomy and freedom. In retaliation, the U.S. is looking to expel Chinese graduate students who have ties to China's military from the country. 
CNBC also reported that the largest gold ETF, SPDR Gold Trust, increased its precious metal holdings by 0.2% to 1,119.05 metric tons, the highest amount in 7 years.
Gold futures moved slightly higher to $1,738/oz as investors once again seek safe space to park their money as the tension between world superpowers is rising.
Dow Jones (DJIA) was trading in green before plunging 147.63 points as well as the S&P 500 (SPX) and Nasdaq (NDX) all closed the trading day in red.
Meanwhile, the cryptocurrency bellwether, Bitcoin, broke above $9,500 as the safe-haven narrative remained strong for investors seeking shelter from the brewing storm.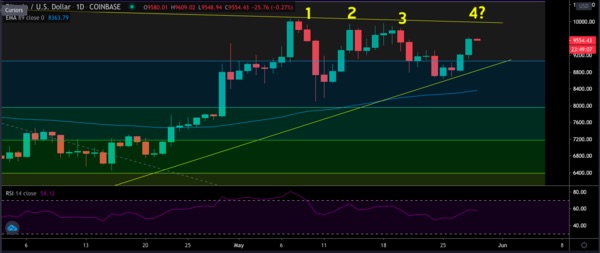 After failing to break above $10K level for the third time now, Bitcoin has to make a decisive breakout from the psychological resistance or at least create a local higher high above $9,800. If unable to do so, the sequence of lower lows could reflect a weaker momentum from the bulls and the bears could sweep in and take the price to the lower support levels.
The yellow trend line and EMA89 (in blue) are the short to mid-term support levels. If Bitcoin plunges even lower, $8K level must hold to maintain the sideways structure, breaking below this resistance could shift the overall momentum to a downtrend once again.
Bitcoin is now trading in an ascending triangle pattern, a breakout in either direction should be concluded between now to the first week of June.
The SCN30 Index has increased by 4.9% to 146.56 points, marking the high for this week. Cardano (ADA) is taking the lead with 15.73% gains while the most weighted constituent Ethereum (ETH) has increased by 4.3%.
You may also want to read: Cryptocurrencies Including Bitcoin are not an Asset Class, Says Goldman Sachs