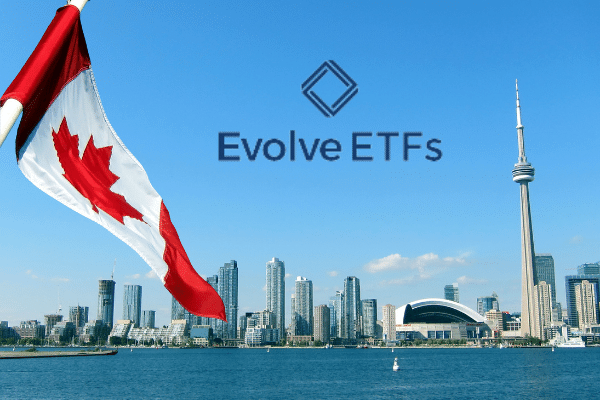 Just a day after Purpose Investments Inc's BTCC Bitcoin ETF launched on the Toronto Stock Exchange (TSX), the second Bitcoin ETF from Evolve Funds Group Inc. is set to launch today.
It will trade under the ticker "EBIT" on TSX.
"The recent institutional adoption has helped further legitimize the progress of bitcoin," says Raj Lala, President and CEO at Evolve. "Being able to offer an ETF which holds physical bitcoin is a real game changer in Canada. Now investors may participate in bitcoin via their brokerage accounts within their RRSP and TFSA. Bitcoin has proven to be a store of value that is uncorrelated to other major asset classes – and has now emerged as an asset class itself."
EBIT is a physically settled Bitcoin ETF. This means every dollar which enters the fund will be used to buy a dollar worth of Bitcoin.
EBIT will provide investors with exposure to the daily price movements of the U.S. dollar price of bitcoin. Investors in EBIT will directly own bitcoin on the Bitcoin blockchain in a cold wallet. Gemini Trust Company, LLC will act as the Sub-Custodian in respect of EBIT's holdings of bitcoin.
EBIT will not seek exposure through derivatives or futures contracts. The daily NAV will be based on the CME CF Bitcoin Reference Rate, a once-a-day benchmark index price for bitcoin denominated in U.S. dollars.
"We're proud to partner with the world's first regulated crypto benchmark administrator, CF Benchmarks, that offers a fully transparent methodology and relies on real-time data from five Bitcoin exchanges including Gemini, itBit, Coinbase, Kraken and Bitstamp," says Elliot Johnson, Chief Investment Officer and Chief Operating Officer at Evolve ETFs. "The world's leading crypto currency continues to gain momentum and legitimacy as more and more institutions embrace its value and potential every day."
Another day another Bitcoin ETF seems to materialize. Soon, more will start popping up all over the world with each opening up new thousands of potential Bitcoin investors.
[ Read more: World's First Bitcoin ETF Gets Off to a Stellar Start ]