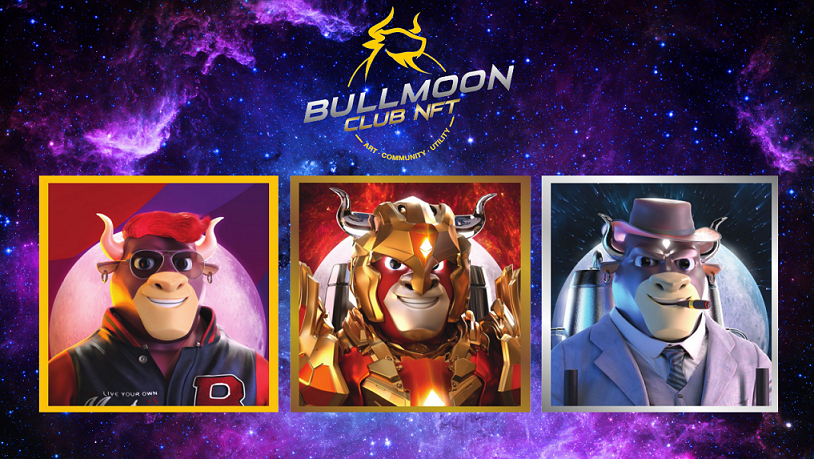 Stock2morrow announces the launch of BullMoon Club NFT, its latest NFT buy-sell platform, putting a highlight on building a community that will transform investors to be ready for Metaverse investments.
The move is set to elevate Thai's NFT market as the company brings forth its 16 years of experience and strength to build an unprecedented NFT community in Thailand. 
The marketplace platform is backed by a long list of gurus and experts who have been invited to advise investors along the way. Meanwhile, the use of Ethereum and OpenSea marketplace will ensure the liquidity and credibility of this latest Thai platform.
In its first phase, the platform will drop 5,500 NFTs and welcome only 5,000 members to register. The BullMoon Club has aimed to transform Thai investors to be ready for the 'digital asset' market as the company sees NFT to have a positive outlook.
Mr. Piyaphan Wongyara, Chief Executive Officer and Founder of Stock2morrow Co., Ltd. said the platform is going to be Thailand's first NFT marketplace that focuses on building a community that will act as a gateway that familiarizes investors and businessmen with the new type of digital asset investment. 
"These recent developments reflect the club's value to be the community for both groups of investors to start investing in "digital assets", an alternative investment in the Metaverse, the verse that will soon change our world"

Piyaphan, CEO and Founder of Stock2morrow said.
Members are encouraged to share useful information, exchange ideas and experiences, and receive investment advice to further create value in their investment.
NFT in itself is driven by 3 important pillars which are utility, the community, and art, all of which are the contributing factors to liquidity and propelling continuous growth.
For the next 5 years, factors like trends from influencers, and the gaming community, as well as high demand for NFT artwork will contribute to the growth of the NFT market. 
According to a recent report, MarketsandMarkets revealed that the NFT market size is expected to grow 4.5 times or equal to 13.6 billion by 2027, a surge from its current size at 3.0 billion dollars. This market growth is estimated by referencing compound annual growth rate or CAGR at 35.0%, if the interest from investors continues to increase steadily.
Although NFT value fluctuates recently, it is a good sign of "digital assets" being revolutionized, meaning only the digital assets with high quality and credibility will continue to have low risk and low fluctuation. 
The future remains positive for the NFT market and there is a sign of growth, especially with the trend that views NFT as a long-term investment. However, investors will have to do thorough research and create a good investment plan to succeed.