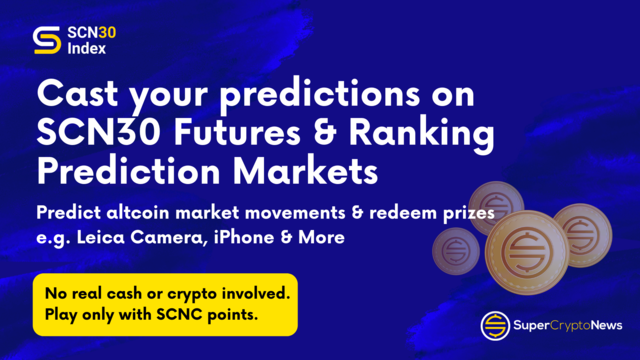 Singapore, Singapore (9 September 2020) – SuperCryptoNews, Asia's leading blockchain and cryptocurrency-focused media outlet today announced its new points and rewards program, the SCNC, and the official launch of its futures and prediction markets that are based on the platform's curated altcoins SCN30 index, which was introduced early this year in January. 
SuperCryptoNews recognizes the immense surge in interest in the futures and derivatives trading market which has reached new peaks in Q1-Q2 2020, totalling more than $4 trillion across the first half of the year. The content platform will be offering its users a stress-free opportunity to purchase futures contracts with SCNC points based on the direction of the altcoins market, as reflected by the SCN30 Index with SCN Futures.
Additionally, SuperCryptoNews has simultaneously rolled out SCN Ranking Predictions, which allows users to speculate which constituents listed on the SCN30 index will rise or fall in ranks based on their market capitalizations. Both markets do not require the utilization of cash or crypto assets and serves as a good entry point for novice traders or users who specialize in the analysis of the altcoins market.
"The development of crypto-based financial products and innovations is very robust as the industry moves forward a maturing asset class. We, at SuperCryptoNews, aim to capitalize and bring these innovations to our audiences in a fun and engaging manner. That's why we are launching SCN30 Futures and Ranking Prediction along with our point reward system, the SCNC, to familiarize our readers with what's going on in the Altcoins space while giving back to the community," said Varut Vanichayakosol, Managing Editor at SuperCryptoNews. 
A trailblazer in engaging its reader base via the accumulation of points with activities such as content publishing and sharing, SuperCryptoNews credits SCNC points to individuals who complete tasks such as contribution of crypto and blockchain articles, the sharing of published content on the site. Thereafter, users may maximize their points and rewards with SCN30 Futures and Ranking Prediction Markets. Points can be used to exchange for luxurious prizes, including a Leica camera, iPhones, Airpods and others, sponsored by SuperCryptoNews.
As SCN strengthens an open and sharing community, users can immediately create accounts on the SCN30 platform. Users will receive 10,000 SCNC for free when creating an account and signing up for the first time. Points are reset to the initial amount of 10,000 SCNC at the beginning of each month to provide a fair and equal chance to all users.
Last but not least, SuperCryptoNews is driving a referral program for users to claim free SCNC. Each sign-up tagged with a referral code will allow the referrer to receive 2,000 SCNC. Referees will also get an extra 2,000 SCNC for an additional boost.
About SuperCryptoNews
Based in Singapore, SuperCryptoNews is Asia's leading online blockchain, crypto and tech media publication which caters primarily to the Southeast Asian markets with a strong regional hold in Thailand and Vietnamese especially. It is backed by The Novum Group, a consortium of diversified and adept companies brought together by the commonality of blockchain, also headquartered in Singapore.

SuperCryptoNews maintains its main theme of educating people about this groundbreaking technology with the latest updates and insightful analysis. It also offers a wide range of services such as exclusive interviews, educational videos, insightful reviews, and more to the userbase across three languages with more than 50,000 and growing monthly active users.

About SCN30
The SuperCryptoNews 30 Altcoin Index ("SCN30 Index") is created to measure the performance of specially curated altcoins (see Selection Criteria) so as to present the state of cryptocurrencies which are pioneers in trailblazing the mass adoption theme. For an altcoin to be included in the SCN30 Index represents a huge milestone and accolade as the selection process is rigorous. The SCN30Index is owned and administered by the Novum Group. The SCN30 Index was officially launched on January 1, 2020.
Learn more about the SCN30 Index here.
ContactChermaine Ng
chermaine@novum.capital
+65 91777457
www.supercryptonews.com