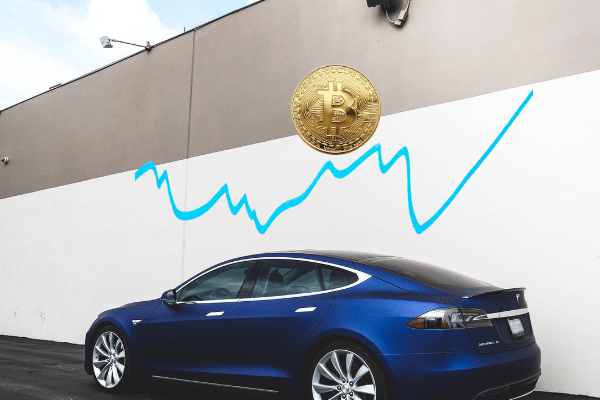 The world's leading electric vehicle maker reveals in a regulatory filing a US$1.5 billion investment in Bitcoin
A bet on Tesla stock is now juiced by gains in Bitcoin as well, representing a self-fulfilling positive feedback loop
A new dawn has broken for Bitcoin as the bellwether cryptocurrency has breached the US$46,000 level for the first time ever.
The world's leading electric car company Tesla has revealed in filings yesterday that it invested some US$1.5 billion in Bitcoin and signaled its intent to begin accepting cryptocurrency as a form of payment for its desirable vehicles, sending the price of Bitcoin skyrocketing.
A recent stock market darling, especially among the retail crowd, Tesla has now also become a proxy for Bitcoin, similar to the way investors bet on the stock of MicroStrategy (+29.16%) , after it revealed last year its investment of US$250 million in Bitcoin.
By some measures, only US$0.23 for every dollar invested in MicroStrategy represents an exposure into Bitcoin, while the amount for Tesla is likely to be far lower. But Tesla enjoys both speculation on its primary business model as well as its bet on Bitcoin, fueling the bullish narrative for both assets.
Late last year, Tesla CEO Elon Musk went on Twitter (+2.50%)  to ask MicroStrategy CEO Michael Saylor how a large amount of Bitcoin could be purchased without necessarily moving the market.
And after updating its investment policy last month to buy digital assets, Tesla revealed on Monday the extent of its purchase of Bitcoin.
In a securities filing with regulators on Monday, Tesla revealed,
"We expect to begin accepting Bitcoin as a form of payment for our products in the near future, subject to applicable laws and initially on a limited basis."
Tesla is the latest high-profile publicly-traded firm to back Bitcoin, lending its substantial clout to cryptocurrencies, which have gained increasing mainstream acceptance despite no shortage of skepticism.
And Musk is no stranger to disrupting legacy industries, including automotive and space travel, so his foray into Bitcoin should not come as a complete surprise – but it does speak volumes about the future of the cryptocurrency industry.
Tesla shareholders are now inadvertently also taking a bet on Bitcoin as well, albeit a much smaller one compared to MicroStrategy, accounting for just a small fraction of the electric vehicle maker's massive cash hoard.
At the end of 2020, Tesla had over US$19 billion in cash on hand after raising US$12 billion in stock sales, taking advantage of an almost 750% surge in its stock price. By way of comparison, Bitcoin rose some 300% in 2020 alone.