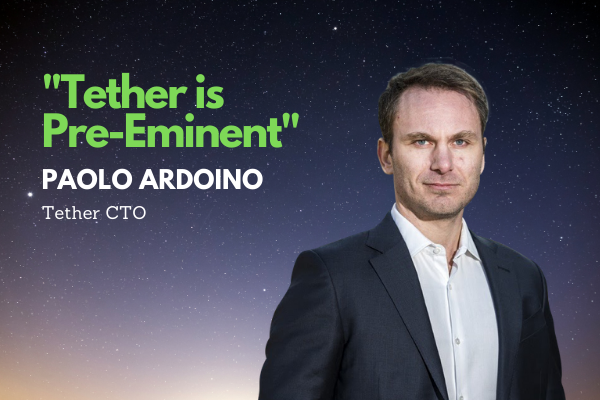 As we approach the end of an eventful year, it would be a gross understatement to say that the crypto market's growth has been great in the past 12 months, as bellwether cryptocurrency Bitcoin smashed through all expectations to truly reach a new high, and other major altcoins in the market seeing unprecedented gains in a short period of time. Most of the world, which has largely ignored digital assets before 2020, will not be forgetting crypto any time soon, and the crypto market has simultaneously seen the inflow of new market entrants. 

In this process, fiat-pegged stablecoins such as Tether (USDT), have been indispensable as it forms a bridge connecting the pure fiat and pure crypto worlds. The fourth-most capitalized crypto asset in the market at present, USDT is a must-have for most traders, and changes in the world economic order has certainly reiterated its importance in the market.

SuperCryptoNews interviewed Tether CTO Paolo Ardoino to review and round up USDT's development in 2020:

1. Tether has performed remarkably well this year. What would you say is Tether's crowning achievement for the year?

Tether's growth in 2020 has been spectacular. We are now starting to speak of the Tetherization of trading, with the lion's share of spot trading volume now denominated in Tether (USDt) tokens. The market has spoken: Tether is preeminent.

As the biggest, most liquid and technologically innovative stablecoin with a market capitalization of over US$19 billion, USDt is a prime example of how global markets can operate more efficiently by leveraging blockchain technology, and represents a payment rail that's actually built for the future of business and innovation.
2. COVID-19 has had a profound and also devastating impact on both old and new financial markets. How has Tether grappled with this so far?
We have seen more exchanges supporting Tether (USDt) tokens as part of their trading mechanisms and offerings, and perhaps an increased appreciation of the benefits that using USDt tokens bring. Fundamentally, however, USDt is a useful token in the digital token space. As commercial activity rises, so does the use of USDt tokens.
3. The world is accelerating its pace on CBDC development especially with China's digital yuan closer to launch now than ever. How will the launch of CBDCs affect stable coins like Tether?
We do not anticipate that Central Bank Digital Currencies (CBDCs) will have a significant impact on Tether (USDt) tokens. Instead, CBDCs could be beneficial for Tether; CBDCs show that central banks and authorities have done their due diligence on stablecoins and effectively validate the model. In the long term, we believe that Tether will continue to exist alongside CBDCs.

Tether was developed with the wider crypto community in mind, to serve as a common denominator across different blockchains and unify these disparate communities. Tether provides the same experience for issuance and redemption across the different blockchains. This has led to the different communities supporting and trusting Tether. Similarly, we believe CBDCs, or any digital token for that matter, should be developed with consideration to its intended user base and their needs.

4. What are your predictions for the crypto market in 2021?

We may see 2021 as the year that stablecoins penetrate non-crypto markets more deeply, helping to increase mass adoption. As digitized currencies become a new norm, the differences between using stablecoins to transact versus fiat will narrow, and people will decide on which to use based on how they can be leveraged in new financial systems.

CBDCs may accelerate adoption of digital currencies more widely. In any case, features such as innovation over different blockchains, lower transaction fees, and faster settlement speeds may keep stablecoins ahead of CBDCs.

Additionally, as new users begin to enter the market and increase their overall knowledge, they may turn to stablecoins as a store of value. This could bring about a shift from bank deposits to stablecoins. Stablecoins, due to their nature as a relatively stable store of value, could also lead to increased trust in cryptocurrencies.

5. What is Tether's goal for 2021? Any exciting developments to come in the approaching year?

We want Tether to play a key role in the crypto ecosystem, and continue to represent the common denominator between the different leading blockchains. Furthermore, we see USDt as a continuing complement to Bitcoin. We are working to further USDt's growth into online commerce and traditional finance.
You may also want to read: Tether Hits $17 Billion in Market Capitalization As Bitcoin Sees Highest Price in Years