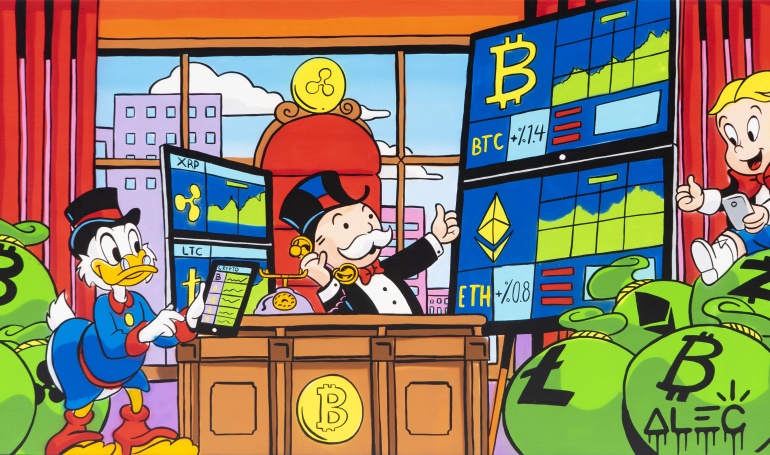 World-famous artist Alec Monopoly will soon be revealing his full collection of original works during a live exhibition at Eden Gallery on April 11 from 11am in South of Houston Street (SoHo).
Collectors who registered through Eden Gallery's website will be able to access the collection. The works can only be purchased in-person or online with cryptocurrency.
Alec will be present at the event. This marks the first time Alec holds an exhibition that only accepts payment in crypto. This also serves as a figurative return to his roots, with his stockbroker Bernie Madoff-inspired mascot — Mr. Monopoly. Alec's work openly criticizes the billion-dollar bailouts and deregulation that is linked to major banks.
The artist finds that the concept of cryptocurrency aligns with his work's philosophy, seeing as cryptocurrency caused huge disturbances to traditional financial systems and institutions. He takes his criticism of said systems to another level by only accepting crypto as payments, while also looking out for new forms of self-autonomy.
"Crypto is a modern way of doing business. It connects people around the world by allowing them to bypass antiquated financial systems that no longer serve them, or never served them at all. For me, it's the way forward," said Alec.
The owner of Eden Gallery, Cathia Klimovsky said:
"We have always loved Alec's work. With its provocative, colorful imagery, Alec provides an incredible commentary about modern society. By making this collection available exclusively through the use of cryptocurrencies, he's sending a strong message about the direction financial transactions are going in, especially in the art world. It also gives incredible access to a broad range of new collectors who may not have had access previously." 
Hailing from New York City and raised by his mother who is a formally educated painter, Alec's graffiti art can be seen on urban structures all over the world; the areas include New York, Miami, Los Angeles, Mexico, Europe and Asia. His work takes on a more lighthearted style, unlike the usual dark and serious style that street art often has, which makes his art a lot more distinctive and down-to-earth.