After a gruelling Sunday market rout, the price of BNB has skyrocketed in the early morning April 19 UK time. This comes after Binance's CEO and founder, CZ, tweeted that Binance will be burning its entire 40% of BNB supply held since its ICO days.
#Binance team had an allocation of 40% of the total supply of #BNB from the ICO days, which is worth just over $37 billion dollars at today's (dropped) prices. We have not sold a single #BNB so far, and never intend to. We will burn it all. More info: https://t.co/6YM7O7vqDZ

— CZ 🔶 Binance (@cz_binance) April 18, 2021

In any market, 40% of supply is a huge amount and represents a systematic risk to any market. In making this announcement, CZ has effectively reduced the supply of BNB by nearly half. With the present strong demand for BNB token coupled with a huge supply reduction, there is only one direction for BNB to head towards.
Just a few days ago, Binance also announced their 15th quarterly burn worth a whopping $595 million worth of BNB.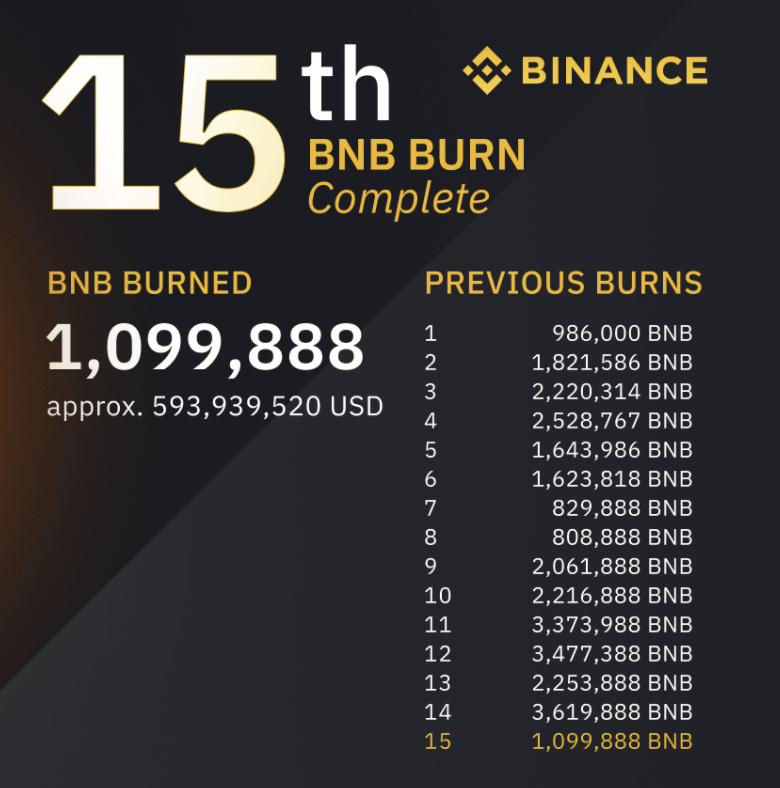 (image from Binance blog)
From the image above, the total BNB tokens burned is 30,567,063. Binance has promised that they will be burning 50% of their entire token supply. With CZ's tweet mentioning an additional 40% token to be burnt (we are not sure if this is to be included in the 50% supply reduction), the 50% in promised total supply reduction seems to be exceeded.
On another note, daily transactions on Binance Smart Chain has crossed the 5 million mark as reported on BSCscan, a further testament to more developers adopting BSC as an Ethereum alternative. Compare this to Ethereum's daily transaction count of around 1.4 million.
The future seems very bright for Binance BNB.