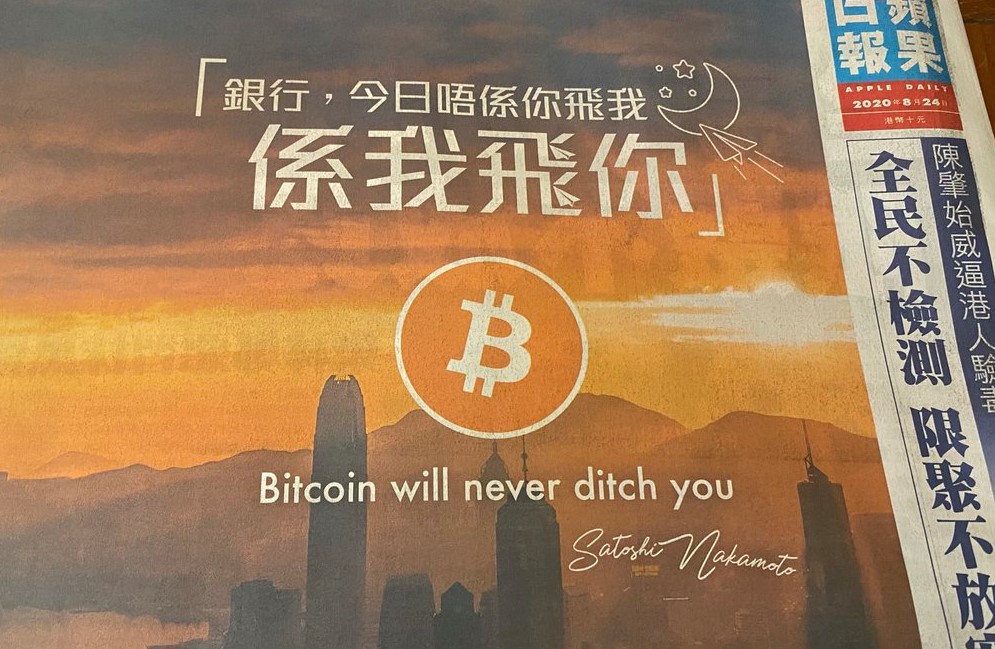 Following the arrest of 72 year-old Hong Kong fashion and media tycoon Jimmy Lai two weeks ago on charges of suspected "collusion with foreign forces", namely the US, in his fight for Hong Kong's freedom against China's oppressive control over Hong Kong, the Apple Daily, a popular tabloid in the city owned by Lai, published a full front page ad dedicated to Bitcoin.

Revealed in a tweet by Aaron Nicholas, a journalist based in Hong Kong, the full spread printed in both Chinese and English promotes the untraceability and freedom that comes with utilizing Bitcoin for transactions. The main title header says, "Banks, it's not you ditching me today. It's me ditching you."
"Bitcoin is digital money," the ad reads. "It is not issued or controlled by any government or corporation. Nobody can stop you from transacting on the network and it cannot be shut down. Bitcoin is available to anyone regardless of their nationality, gender or beliefs […] Now, its time is coming."
The world's largest cryptocurrency has been increasingly highlighted as a store-of-value for the oppressed and marginalized, especially those who are trying to escape government surveillance and banks' control over individual finances and assets. The Human Rights Foundation, for example, accepts Bitcoin, Ethereum and even privacy coins precisely because it recognizes the crucial role cryptocurrency plays in human rights and freedom movements.
Since the protests for the democratization of Hong Kong began last year, protestors have turned to Bitcoin and other cryptocurrencies as banks froze their finances in a bid to deter them from participating in civil movements. 
It is unclear, as Nicholas pointed out in his tweet above, who the target audience of this advertisement is and what objective it is supposed to fulfil, but as violence and social upheaval escalated after the peak of the COVID-19 pandemic and the passing of China's new National Security Law, Bitcoin is undoubtedly being hailed as the currency of freedom in Hong Kong.
You may also want to read: IMF Reposts Intro Video to Cryptocurrency; Community is Not Impressed