Last week, this analysis (rightly) pointed out that Bitcoin would face resistance at US$8,000 but that if it managed to somehow mount a breakthrough over US$8,000, it would stay at that level. Following the U.S. airstrike on one of Iran's top generals, Bitcoin, similar to gold, found the geopolitical rationale to bust through the US$8,000 level, hitting a high of above US$8,300 and searching furtively to peak above US$8,400, another level of resistance.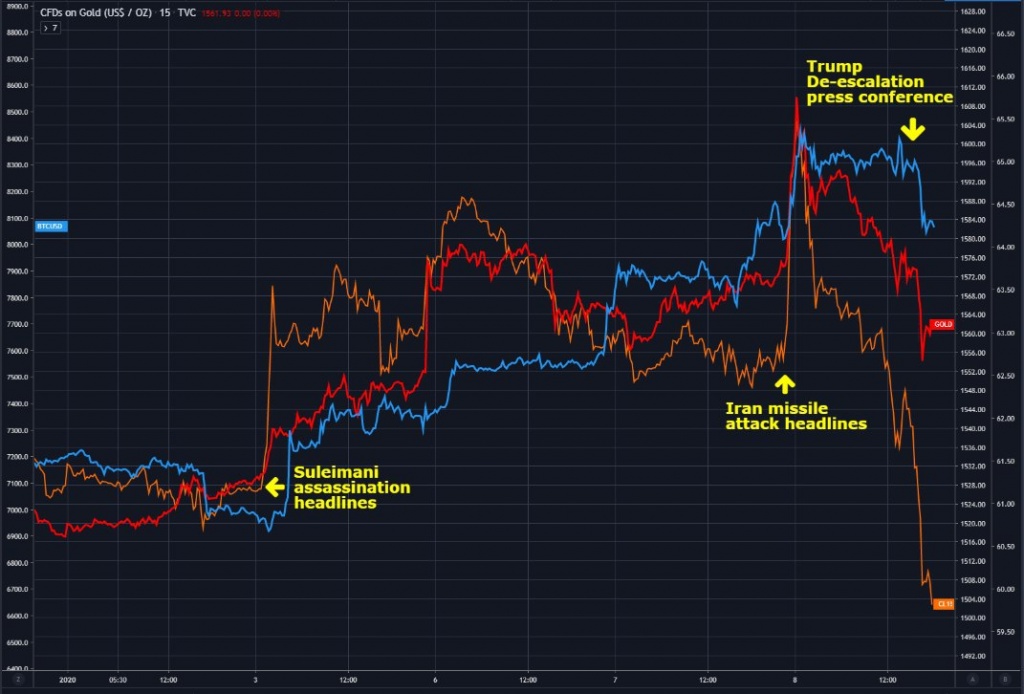 Image Source: Twitter @rewkang
These tentative peeks towards higher dollar valuations of Bitcoin were short-lived however as it increasingly appeared that Iran was not keen to escalate tensions with the United States, opting instead to mount more reactionary strikes deliberately timed so as not to take any American life.
The measured response of Iran saw the Bitcoin rally lose steam, plunging towards US$7,700 before clawing back lost ground and remaining firmly above US$8,000.
Over the next week, expect Bitcoin to trade within a relatively tight band of US$8,100 to US$8,300 with a breakout above US$8,500 an opportunity for profit-taking and any dips between US$7,700 to US$7,900 representing buying opportunities.
If Bitcoin should go below US$7,500 however, traders are recommended to stay on the sidelines to assess the short term directional play.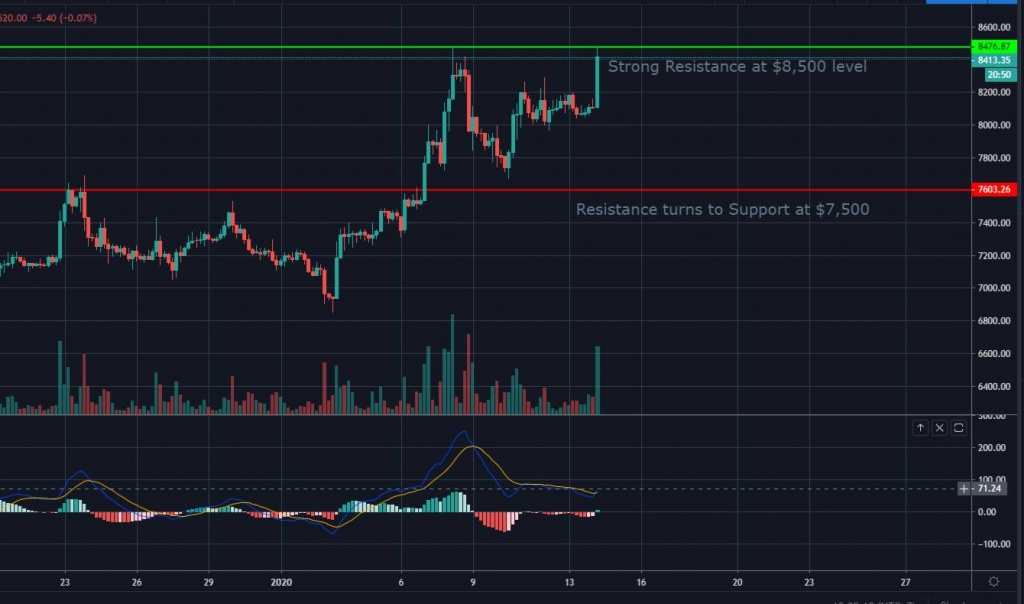 Correlation between Bitcoin and other cryptocurrencies continues to be strong, with Ethereum, continuing to trade between US$130 and US$150, with strong resistance noted at US$150.
Bitcoin Cash SV, the controversial Craig Wright (so-called Bitcoin creator) associated cryptocurrency mounted a spectacular surge over the past week. Buying opportunities were also noted by this analysis two weeks ago when the cryptocurrency was trading at US$86. At current levels, traders are best advised to sit on the sidelines for BSV as there is strong resistance at the US$180 and US$200 levels. A BSV play will require careful monitoring and patience for BSV to hit nearer to the US$100 levels for buying opportunities. Shorting opportunities for BSV are not for the faint-of-heart but can be considered for a move of BSV from US$165 to US$150. Expect BSV to trade rangebound between US$150 to US$170 over the next week, with any sustained movement (three days or more) below US$150 a sign of BSV bearishness and a sign for traders to cut losses.
You may also want to read: Bitcoin Shows Strong Correlation with Other Safe Haven Assets