What does a U.S. airstrike on one of Iran's top generals have to do with Bitcoin? A lot apparently. Bears were caught unawares as an American airstrike in Baghdad against an Iranian general sent the price of both gold, oil and Bitcoin surging, leaving some pundits to suggest that Bitcoin is yet again proving itself to be the digital counterpart to gold.

Before the weekend, Bitcoin was in bearish territory, testing the US$6,900 support level until the U.S. airstrike definitively reversed the bearish trend and sent the bellwether cryptocurrency surging past the US$7,200 level of resistance.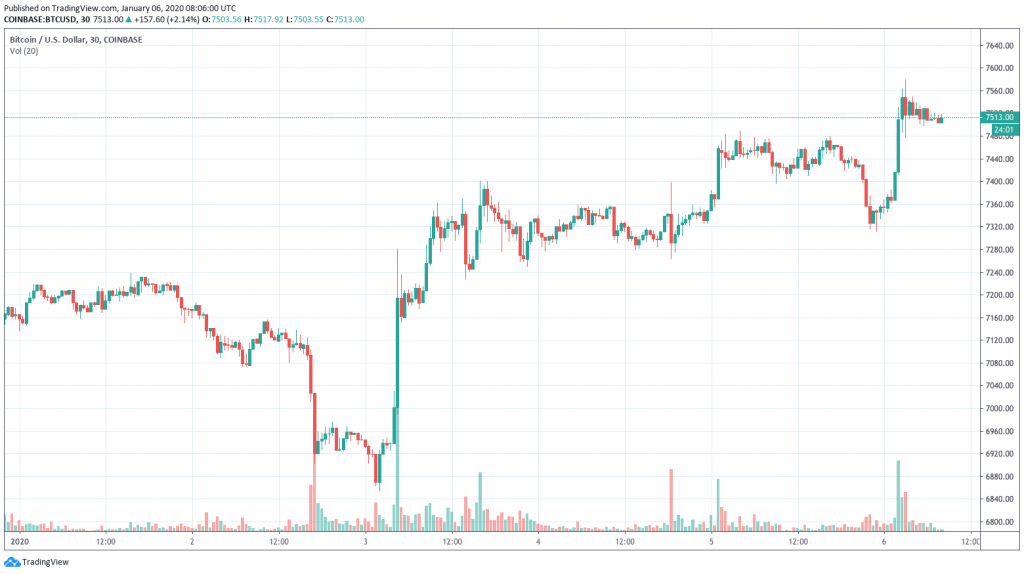 The relative strength indicator (RSI) turned decidedly bullish, indicating Bitcoin would test the US$7,500 level on several occasions but likely hover within this region.
Over the next week at least, expect Bitcoin to trade rangebound between US$7,200 to US$7,500. If Bitcoin breaches US$7,700, expect strong resistance at US$8,000, with a potential pull back to US$7,500.
But with global uncertainty rising, bulls will outnumber bears when it comes to Bitcoin unless tensions in the Middle East subside dramatically.
For altcoins such as Ethereum and Bitcoin Cash, the rise in Bitcoin has seen a disproportionate rise in dollar valuations of both these top flight cryptocurrencies as traders look for profit opportunities trading up their prices.
In the short term however, expect rises in altcoins to be tempered by rises in Bitcoin and for Bitcoin dominance to continue to hog the cryptocurrency narrative. Traders may be overbought on Ethereum and Bitcoin Cash at the moment and may want to consider profit taking for Bitcoin until and unless a clear breakout over US$7,700 is evidenced.