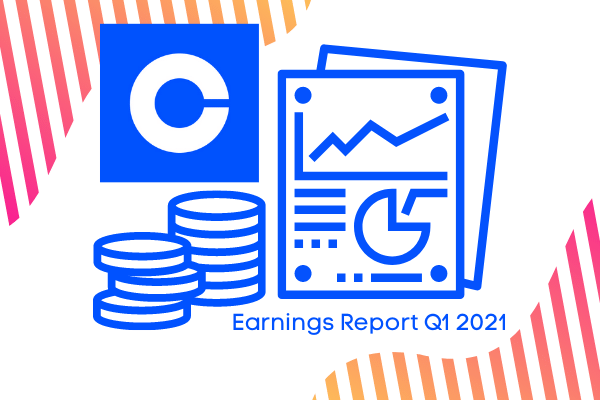 Prominent cryptocurrency exchange platform Coinbase (NASDAQ: COIN) recently disclosed its shareholder letter detailing its financial performance for Q1 2021.
Upon revealing its underperformance during the announcement, COIN fell by 6.53%.
The report started off on a more positive note — remarking the rapid growth of crypto assets as they reach ATH prices, high volatility, and rising interest all over the cryptoeconomy.
The crypto market, now seeing more activities than ever, has brought more engagement to the Coinbase platform. The company has achieved their KPI (Key Performance Indicator) targets when it comes to retail, institutional and ecosystem partner growth.
Coinbase currently has over 56 million Verified Users on its platform, consisting of over 8,000 institutions and over 134,000 ecosystem partners. As for the retail MTUs (Monthly Transacting Users), it has grown to 6.1 million.
Coinbase has added Bison Trails into Coinbase Cloud as a part of its offering, allowing companies to store and send crypto, receive crypto payments, and grow their businesses with crypto-native infrastructure.
Although Coinbase has managed to do good in certain aspects for Q1 2021, the range of products and services that Coinbase provides pales in comparison with its competitors.
The statement says:
"Our competitors are supporting certain crypto assets that are experiencing large trading volume and growth in market capitalization that we do not currently support, as well as offering new products and services that we do not offer. We welcome these challenges as they indicate that the market we serve is growing rapidly, but we also have to continue to move quickly to address them, and that inspires us towards action and growth."
In light of the Dogecoin (or dog-themed token) craze, Coinbase stated that the trading of Dogecoin will be allowed on the platform in approximately six to eight weeks.
Coinbase reminded investors to keep in mind that their business is "inherently unpredictable", and that the MTUs, Trading Volume, and transaction revenue can shift dramatically.
Meanwhile, its rival Binance has recently been placed under investigations by the US Justice Department and the IRS.