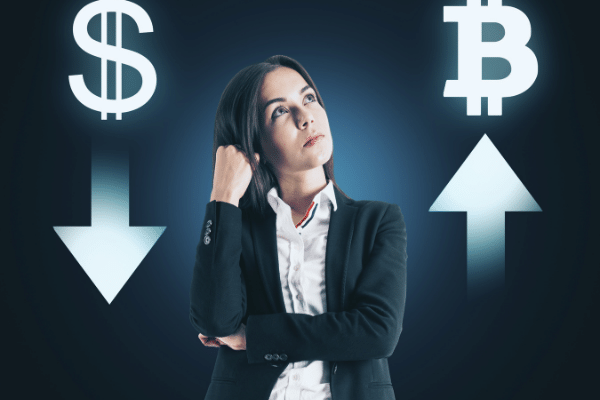 Blockchain data suggests that over half of all anonymous private Bitcoin wallets are under water in terms of dollar price performance. 

Institutional investors who bought at a high may be under pressure to pare back holdings or rationalize portfolios.
Data from Bequant suggests that more than half of all anonymous Bitcoin addresses are holding onto losing positions in the world's largest cryptocurrency by market cap.
According to Bequant, a digital asset firm, 51% of anonymous Bitcoin addresses bought the cryptocurrency at a price well above current levels and "points to capitulation."
Cryptocurrency prices alongside other risk assets, have been in a broad slump this year as central banks around the world tighten to face off higher levels of inflation.
From tech companies to cryptocurrencies, investors are shying away from risk, and instead of pouring into bonds, as would normally be expected, are rotating into cash, as rising interest rates see yields spiking.
Bitcoin has already lost over a third of its value this year alone, and Ether, around half.
Bitcoin miners who have to pay for things like rent and electricity in fiat currencies like the dollar, are said to be selling their Bitcoin hoard as they struggle to keep up with operating expenses and over concerns that prices could capitulate further.
Unlike in 2018, the number of active cryptocurrency investors has soared since the pandemic and the unprecedented fiscal and monetary stimulus that central banks poured into the financial system to cushion the economic effects of Covid-19.
For many investors, the easy-money central bank policies fueled unprecedented rallies in risk assets, including cryptocurrencies and now that that narrative is being unwound, it's understandable that the wind beneath Bitcoin's wings has disappeared.
Bitcoin is now trading at the lower end of its 17-month range and the bulk of buyers are nursing unrealized losses, according to blockchain analytics firm Glassnode.
Glassnode has suggested that less than 25% of Bitcoin is being held in profit.
Nevertheless, those who had bought Bitcoin much earlier on, before the recent rally late last year, are unlikely to be selling now, with those who bought at much higher prices, likely to be the first to capitulate.
As more institutional investors got in on Bitcoin, the odds of them selling, especially as they look to rationalize their portfolios increases, and this will have an outsized influence on price.
Data from Skew, a data service provider, suggests that bearish sentiment is still very much prevalent in the Bitcoin markets, with the put-to-call ratio hitting a high of 0.75 meaning that traders continue to buy bearish puts (the right to sell at a certain price) for downside protection or to profit from Bitcoin's further price decline.