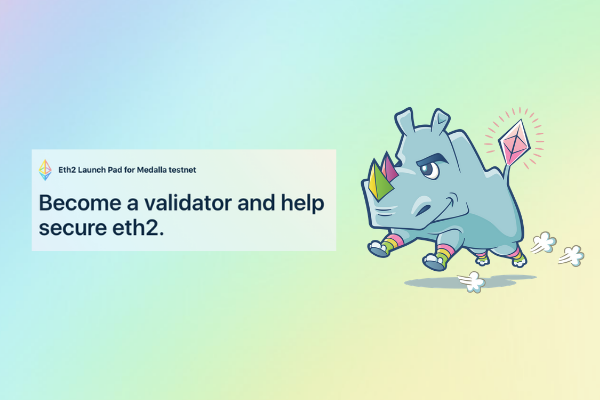 Last week, Ethereum 2.0 launch coordinator and team developer Danny Ryan mentioned the release of an ETH2 Validator Launchpad to facilitate Ether (ETH) deposits onto the Medalla testnet, scheduled for an August 4th launch in a week. The Medalla multi-client testnet will feature the deposit function as this is the final testnet to be released before the reveal of the Ethereum 2.0 mainnet, and as such, Medalla will mirror the mainnet's features most closely, as compared to other testnets made available before this. Potential validators can now head to the validator launchpad site to begin depositing their ETH.

"The idea behind the launchpad is to make the process of becoming an eth2 validator as easy as possible, without compromising on security and education. In contrast to using a third-party service, running your own validator comes with the responsibility of managing your own keys. This responsibility brings with it an inescapable tradeoff between ease-of-use, security, and education," the announcement reads.

A step-by-step tutorial for potential validators to make their deposits and generate an eth2 validator key for the Medalla testnet, the launchpad shows just how many stakers there are. This is crucial as the testnet will only be launched on August 4 at 1pm, 48 hours after it has reached its target of 16,384 validators and a total of 524,288 GöETH. According to the milestone bar on the page, it seems that Medalla is halfway through its intended target.

After successfully becoming a validator on the testnet, users can select the clients they would like to interact with. At present, there are four clients available, but the Ethereum team is expecting two more potential clients to join this round of trials. 
"Although the client teams won't have Medalla specific documentation ready until closer to August 4th, now is probably a good time to start doing research on which client (or clients) you want to test out. Have a look at their docs, play around with their local testnets, and don't hesitate to get in touch directly with the teams (discord is probably the place to go)," the team shared.