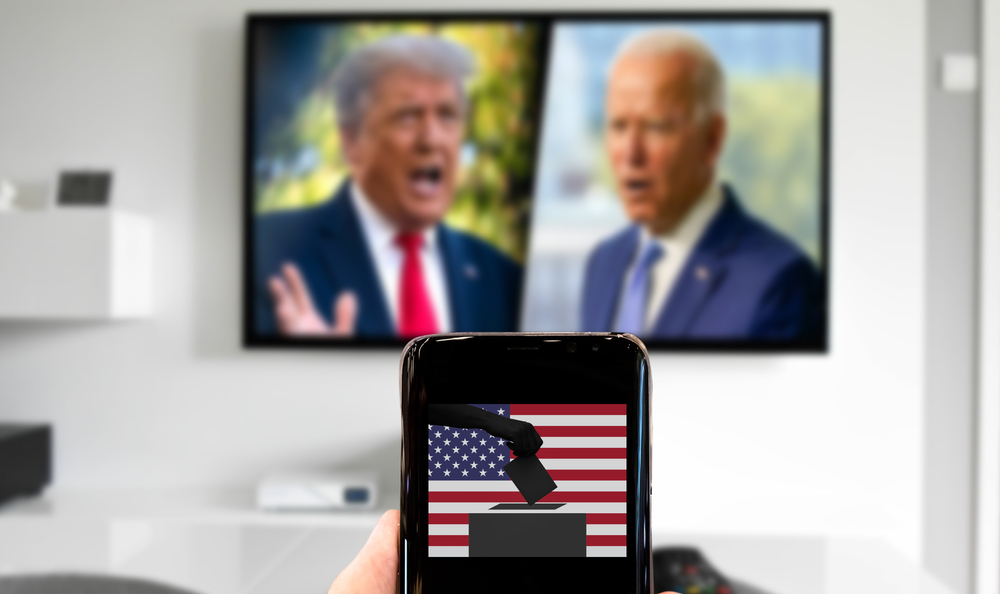 This US 2020 elections have been like none other – happening in the midst of a global pandemic that the superpower has failed to control, major civil and political unrest, and Republicans and Democrats going head to head more intensely than ever before – and as all eyes are fixed on the election outcome and the impact of such on traditional financial markets, here is how crypto and blockchain have featured in the elections so far.
Firstly, for the first time ever, blockchain technology is being utilized to present accurate and real-time election data by the Associated Press (AP), which has been calling US election results since 1848. With a history of over 150 years in reporting the elections, AP will be posting the election data, such as vote and delegate counts, state and national results and more, on Ethereum and EOS blockchains, according to Forbes. 
AP will also be posting the results onto a blockchain equivalent to Wikipedia, called Everipedia, which functions the same way as Wikipedia does, but with data verified on blockchain. Viewers will be able to assess the accuracy of the data provided, and this is important given the phenomenon of fake news plaguing the online space at present, especially in high-stakes events or situations such as the US 2020 elections. 
And while the elections are undoubtedly important to the crypto industry and market as a whole, it has not been fully involved this year – not with lobbying or donations. The crypto industry has taken to watching from the sidelines as political developments unfold, and this could be because regardless of who wins, Bitcoin is likely poised for a price rally. Of course, a Biden victory would do the industry one better than if Trump won, but the year has proven that Bitcoin is indeed a viable alternative asset that can weather hits from global political and economic changes.
Secondly, according to Coindesk, it was recorded by the Federal Election Commission that individuals and businesses in the crypto sector made minimal, if any, donations to the elections. The crypto community has been largely 'uninvolved' with the elections, which could be seen as ironic as a Republican or Democrat administration will have substantial impacts on how crypto regulation and laws will unfold over the next four years. 
The potential for digital assets and new technologies to be utilized in the US elections, which is heavily watched by the rest of the world, is immense. Earlier this year, the US Postal Service was considering blockchain-based voting, and while it did not come to fruition this year, this could change in 2024.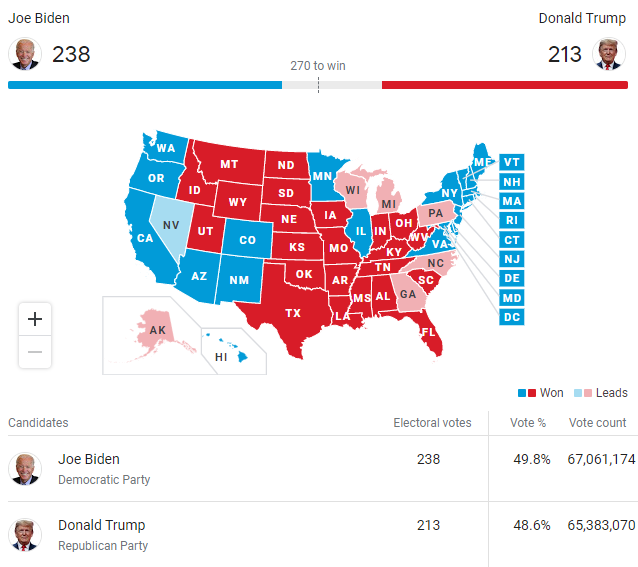 As of now, the results are 238-213 in Biden's favour.
You may also want to read: Ethereum & Altcoins Market See Red A Day Before US Elections