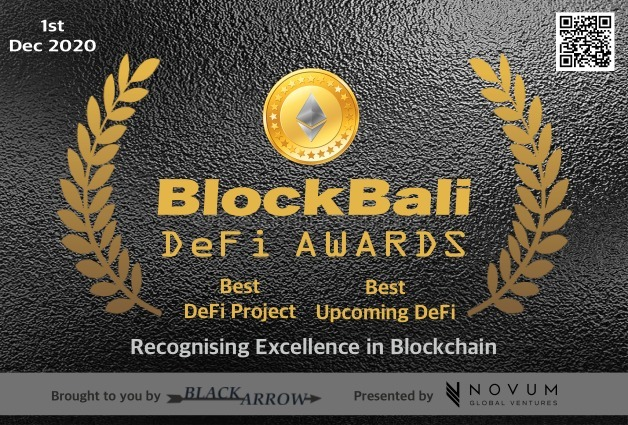 BlockBali, one of Southeast Asia's largest blockchain and cryptocurrency conferences, will be commencing its 18th edition this year on December 1 (12pm, GMT+8).
The DeFi sector has reached multiple milestones this year, including surging to new highs with a Total Value Locked (TVL) of $13.8 billion USD as innovative projects and developments emerged one after another throughout the summer. 
As part of the BlockBali event, we are inviting all DeFi blockchain projects to nominate themselves for the 2nd Blackarrow Blockchain Series (BBS) Award. The BBS award is meant to provide recognition for breakthrough innovation, top-class execution and fast-paced growth. This award shall be presented by Novum Global Ventures.
Two awards and titles are up for grabs: Best DeFi & Best Upcoming DeFi awards. The winning project will not only get the coveted BlockBali DeFi trophy, but also a chance to pitch their project to the delegates of BlockBali Conference. ​Award and trophy presentation will happen online on December 1.

Applications will be assessed by Christopher Low, CEO and Chairman of The Novum Group, Oscar Darawan, CEO of Indodax and Sarfraz Patel, Founder of Blackarrow Conferences.

​Participation Terms & Rules
Decision of the jury is final, organiser reserves all rights to final decision​
Participating projects are required to nominate themselves by writing to sarfraz@blackarrowconferences.com
Registration to the conference to be done separately at registration page. You will be required to register to be present at the conference. You can register as many members of your team as required.
Last date for nomination – 25th November 2020
Winning project will be notified 2 days prior to the BlockBali Conference on 1st December 2020
Award & Prizes
Winning project will receive the 'BlockBali Best DeFI' trophy from the senior representative of Novum Global Ventures, online from Singapore
Speaking Slot – Opportunity to introduce their project to the conference delegates via a 5 min independent speaking slot, online
About BlockBali 2020
Shining a spotlight on DeFi, Blackarrow Conferences is hosting the 4th edition of Blockbali, a one-day blockchain conference that is presented by Novum Global Ventures, an end-to-end blockchain advisory firm and accelerator. Other involved companies include Indodax, and Indonesia-based digital assets marketplace, Singapore-based digital assets hedge fund Novum Alpha and automated trading bot application CryptoHero. SuperCryptoNews is privileged to be the presenting media for the event. Read more details about the event here.