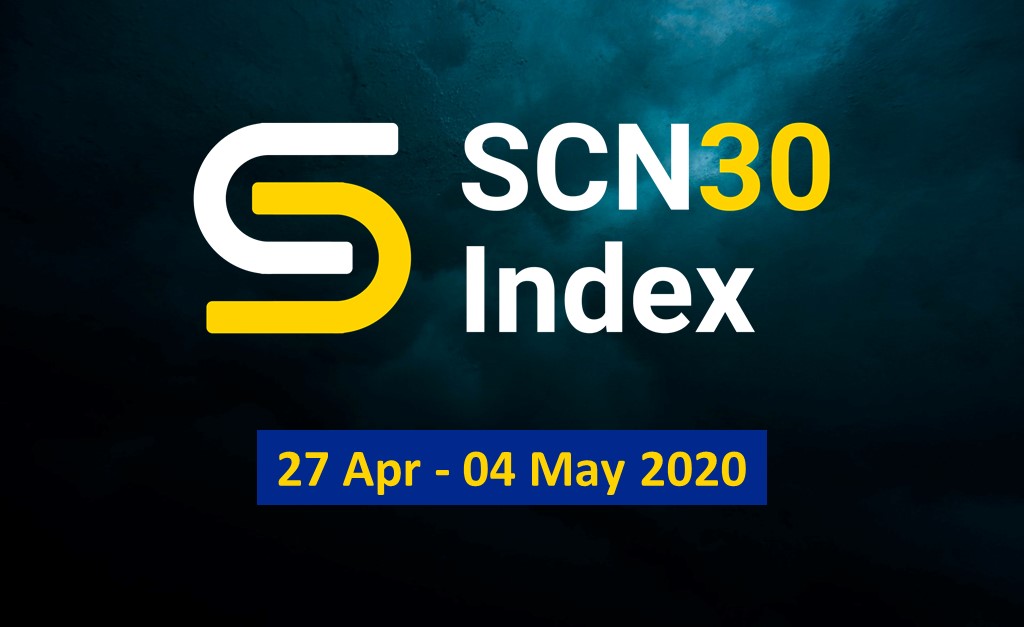 With a record stimulus package out of Washington last week, risk was back on the table as Bitcoin posted sizable gains over the weekend and currently trades well into US$7,700 territory.
And a rising tide floats all boats as the SCN30 index continues to climb steadily by 15 points from last week. With the promise of fresh liquidity and a spike in the market cap of a variety of dollar-backed stablecoins, including Tether (USDT) which rose by over a third in the past quarter alone, there is looming expectation of greater trading volumes in cryptocurrencies, which is what marked the significant bump in prices of a majority of SCN30 component cryptocurrencies.
Above: Screengrab of SCN30 graph here.
But risk appetite is shallow when it comes to cryptocurrencies, with the majority of investor interest still mainly confined towards Bitcoin and spillover into Ethereum.
As Bitcoin rises and Ethereum tests the US$200 level of resistance, expect some spillover interest in altcoins as traders go bargain hunting, searching out the next big "hit."
Above: Screengrab of SCN30 list here.

Top 10 Constituents Hold Positions while ADA and LINK Gain 3 Positions
4 out of 30 constituents are on a decline since last week while the rest seems to remain positive. While we do not see significant movements across the top 10 constituents, the rest of the constituents struggle to hold their positions.
Notably, Cardano (ADA) and Chainlink (LINK) gained 3 positions ranking 9 and 11 respectively. The proof-of-stake Cardano blockchain prepares its transitions to Shelley mainnet barely a month ago and is expected to continue to be bullish while LINK recovers after an initial 80% decline from 2 weeks ago, now breaking its resistance and holding at $3.71. Both tokens show signs of holding its bullish trend with their project updates and activities.
Unus Sed Leo (LEO) and Huobi (HT) tokens dropped by 4 and 2 positions respectively across the 30 constituents in the last week. The similarity between both tokens is that whales hold a major percentage of their circulating supply with LEO at 99% and HT at 93%. Whales have a massive influence over the token prices and this could be one of the reasons in the decline for both, resulting in a drop in positions.
You may also want to read: Crypto Market Recovers Back to Pre-Crash Levels; BTC-ETH-LINK at Turning Points