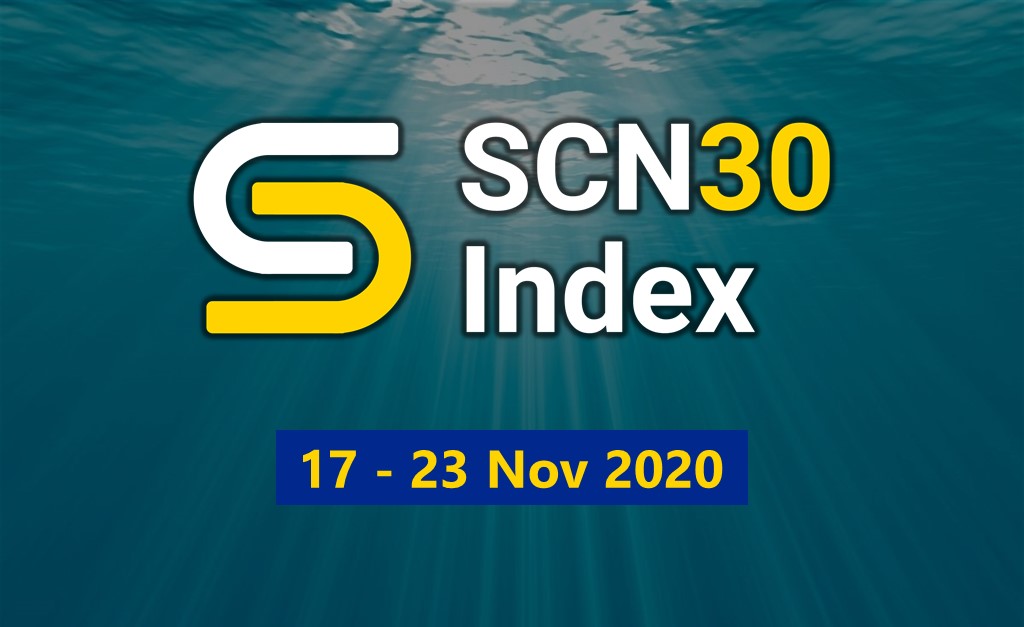 It has been a stream of good news for humanity as US company Moderna revealed early data of a new vaccine which is nearly 95% effective. The stock markets as well as oil prices have adjusted upward in ecstasy along with the Altcoins market.
The SCN30 Index during the past week has spiked +4.03% from 281.82 to 293.68 points. In November alone, the Index has already increased by 60 points paving the way to retest its all-time high (ATH).
Bitcoin (BTC) yielded +9.11% returns in the past seven days while its physical counterpart, gold, moved up +1.84%. The WTI crude oil rose +2.85% as the stock markets continued the march to ATHs from the vaccination news with Nasdaq (NDX) and the S&P 500 (SPX) increased +1.55% and +2.15% respectively. 
The resurrection of DeFi tokens played a major part in the rise of SCN30 Index. Be that as it may, the top-performing constituents this week came as a surprise from the two old-school projects, Ripple (XRP) and Litecoin (LTC) which increased +13.85% and +19.16% respectively.
Ripple Technical Analysis
Ripple (XRP) is on the verge of breaking out from the suppressing trend line where it will face the next resistance at $0.31 and $0.35 which is the 2020's high. Moving forward, the $0.50 looms above as the major resistance which also marked the top of 2019's mini bull run.
The RSI on the daily time frame still indicates that there is more room to the upside. However, the rejection from the suppressing trend line could send XRP down to the rising support line below. As we are reaching the apex, the compressing symmetrical triangle will force XRP to breakout in either direction any time soon.
The year-to-date (YTD) return of XRP still lags behind other large-cap Altcoins which, on the flipside, can indicate a larger upside gain than the coins that are already appreciated in prices.
Litecoin Technical Analysis
Litecoin (LTC) recently broke out from the symmetrical triangle where it surged more than 7% last night, testing the first resistance at $71.
The next resistance is located at $84 which is the 2020's high. The RSI is now entering an overbought territory but there are still rooms to expand. Any dip should not fall below $69 which is the breakout level, plunging back down will shift the price structure back to a prolonged consolidation period.
Disclaimer: This analysis is the view of the author's alone, and does not in any way represent trading advice. all traders should trade at their own risk.
You may also want to read: Bitcoin's Direction After the Presidential Election Comes to a Conclusion