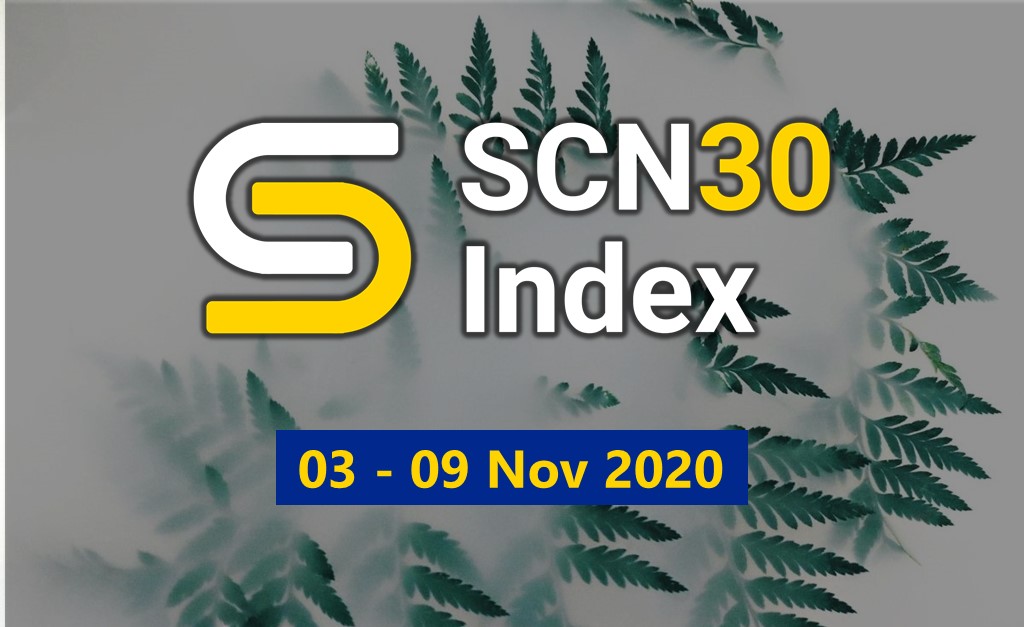 The second wave of COVID-19 pandemic swept fear across the globe as many European countries are looking to enforce yet another lockdown and this could very well be the last nail in the coffin for a major economic downturn. The 2020 US presidential election happening tomorrow will also determine the fate of the world's largest country by GDP. These factors put pressure on the stock markets as well as commodities such as gold and crude oil.
Amidst the uncertainties and chaos, the world's largest digital asset Bitcoin sprung out and surged to a new multi-year high. Alternative coins market, however, suffers from the outflow of capital but still managed to perform better than major US stock indices Nasdaq and S&P 500 which is going through a challenging week leading up to the election.
The SCN30 Index has almost come to a standstill. The overall trend remains sideways as legacy Altcoins continue to play a tug-of-war with the now fading DeFi projects. 
DeFi tokens are the ones dragging the SCN30 Index and slowing it down as many of them have dropped to new lows. Once again, the momentum has shifted from the hot & young projects back into more profound and well-established crypto projects.

Ripple Technical Analysis
Ripple (XRP) is the third-largest cryptocurrency by market capitalization. The coin, however, cannot offer the same returns as other projects in the same weight class with only 23% gain YTD, which is considered "poor" by the crypto standard.

XRP is now ranging in the symmetrical triangle pattern with the bottom trendline of the triangle currently (in yellow) providing support. This offers a short term speculation opportunity as XRP could bounce back and retest the upper descending trendline.
Breaking below the bottom trendline, however, could send XRP back to $0.236 and $0.1152 levels.

Fundamental-wise, XRP has nothing in its arsenal to help boost the price. Small position and short term speculative trading strategy is advised until the coin has a decisive break up or down.
Chainlink Technical Analysis
Chainlink (LINK) in the short term is trending up on an ascending channel (in dark blue) with a support at the lower line at $10. Breaking down from this channel could send LINK back down to retest the upward sloping trend line (in yellow.)
The bigger structure of LINK is similar to other Altcoins as most of them are consolidating in a symmetrical triangle pattern. LINK trending near the top of the triangle, however, signaling a bullish momentum and is more likely to break to the upside.
Disclaimer: This analysis is the view of the author's alone, and does not in any way represent trading advice. all traders should trade at their own risk.
You may also want to read: Ant Group Presence in the Digital Asset Space will Eclipse that of PayPal's?