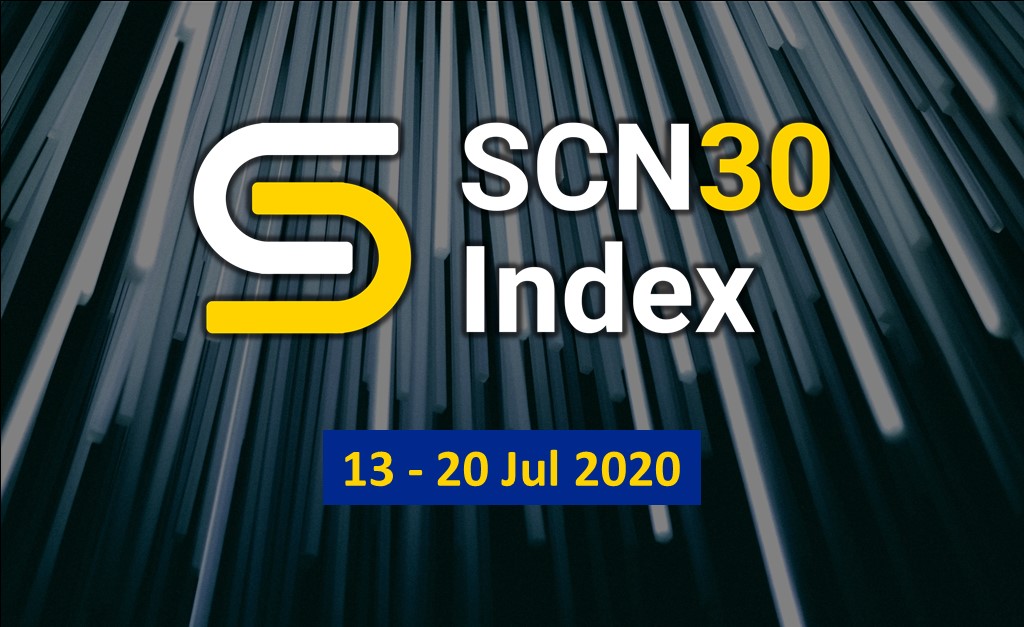 After over a week of stagnation alike to Bitcoin (BTC), SCN30 has risen from 148.95 points to 161 points since 29th June while BTC by about US$100. The slumber period resembles BTC's movements in early 2017 and is crucial in determining if the BTC bubble is finally going to burst – but BTC holders seem to be HODLing on well. 
Ethereum (ETH) has also been fairly stagnant despite Ethereum 2.0 and the growing interest in DeFi. Funds locked in DeFi is reported to have reached US$2 billion. The crypto landscape however still seems pretty gloomy with speculations that DeFi is the next bubble reviving BTC and altcoins amidst the dreadful wait for Ethereum 2.0.
Above: Screengrabs of SCN30 list here.

The Altcoin Underdog
Chainlink (LINK) has been the talk of the town in the last few days with an over 1,000% surge within the last year and currently at its all-time high. LINK has entered SCN30's top 10 constituents, kicking off Tezos (XTZ). LINK's price surge comes with the network's high activity reaching the peak of active wallets at 9,335. Since April, the decentralised data oracle network has already announced over 45 partnerships and integrations across widely used crypto services such as Nexo and Huobi, as well as Google Cloud. Its reference data points have also increased from 29 to 31 which screams expansion. Thee push for mass adoption is not as simple as seeding speculative information across social media platforms, it is also working hard to secure partnerships with established and growing companies in and out of the blockchain industry.
Aside from LINK's entrance into Top 10, we see Cardano (ADA) gaining 3 positions and holding its place at Top 5. ADA is yet another bullish altcoin attributed to a price surge of 85% on 10 days. Interestingly, topics that SCN30 brought up previously such as the DeFi trend and development of Cardano's Shelley main net are part of the reasons why ADA has been on a bullish trend.
You may also want to read: Bitcoin's HODL Mentality Stronger Than Ever as 62% of Bitcoin Has Been Dormant for the Past Year