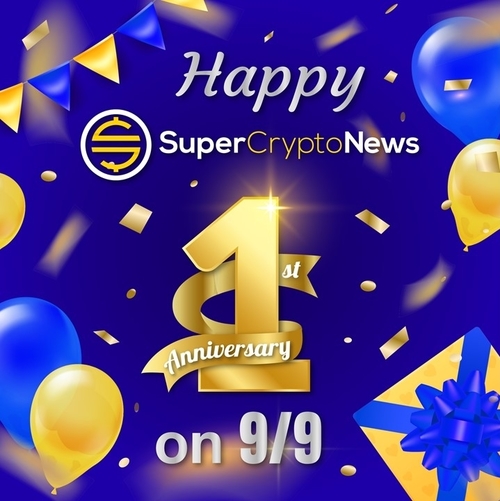 It has been exactly one year since SuperCryptoNews launched.
SuperCryptoNews humbly began with two main editors stationed in Southeast Asia and two regional sites – SCN Global and SCN Thailand. Fast forward a year, and we now have SCN Vietnam, a supportive community of loyal readers, a diverse group of clients and partners we are grateful for, and also a team of amazing contributors that add to the perspectives and voices in the blockchain and cryptocurrency space.
Together, we have covered breaking news, insightful market analysis and wonderful opinions on the latest happenings in the industry. In addition to that, we have launched video content in all three languages, from interviews and podcasts to fun knowledge videos which bring our audience digestible, bite-sized pieces of information weekly.
More than that, we were very proud to have launched our curated altcoins SCN30 Index back in January. Now, that index also features some new DeFi tokens that have made it up the rankings to clinch a spot in the Top 30 Altcoins list as DeFi growth exploded in the past few months.
With SCN's very first anniversary, we are immensely happy to bring you the SCN30 Futures and Ranking Prediction Markets, along with our proprietary SCNC Points & Rewards programme. We're also bringing you an exclusive opportunity to earn more points to redeem luxurious prizes on the SCN platform during our anniversary week.
SCN30 Futures & Ranking Prediction Markets

Head on over to the SCN30 platform and start exploring SCN30 Futures and Ranking Prediction markets today. Purchase long or short contracts, or predict where the SCN30 Index will fall at in the future with SCNC points. Earn SCNC points when your predictions are proven correct.
Not sure how to navigate the SCN30 platform and Markets? Read our easy and detailed tutorial here.

SCNC Points – Rewards Programme
We launched the SCNC points and reward programme a few months ago, and in case you have not read that yet, head over here to take a look at how you can earn SCNC points. Remember, there is no real cash or crypto involved with SCNC!

Each user will automatically get a free 10,000 SCNC free credit when they sign up for an account on SCN30's platform. In less than a minute, you can start making your bets on the SCN30 Futures and Ranking Prediction games, check out how many points you have earned and redeem any prizes if you accumulate enough points!
On top of that, we are giving out bonus 5,000 SCNC points for any sign-ups during this period until 15 September, so fastest fingers first!
Disclaimers:
– SCNC points may not be sold or transferred to anyone
– Referral Bonus is limit to five users per day
– A user must not circumvent the award of SCNC through dishonest or malicious means
Prizes
Once you have hit a prize tier in your SCNC account, send us an email with the email account you registered with, and we will verify the points and make further arrangements to send your prize to you.

How Can I Earn More SCNC Points?
You can earn more SCNC points by sharing any SCN article on social media. All you have to do is email us with proof of your post and we will credit extra points to you. If you are a content contributor and would like to share some of your works (articles that have already been written and posted on other sites) or write exclusive new articles for SCN, simply email us as well or create an SCN30 account to auto-upload your articles!
If you have any questions, email us at admin@supercryptonews.com or ping us on any of our social media accounts.
---
Happy exploring the SCN30 Futures and Ranking Prediction Markets!
From the SCN Editorial Team