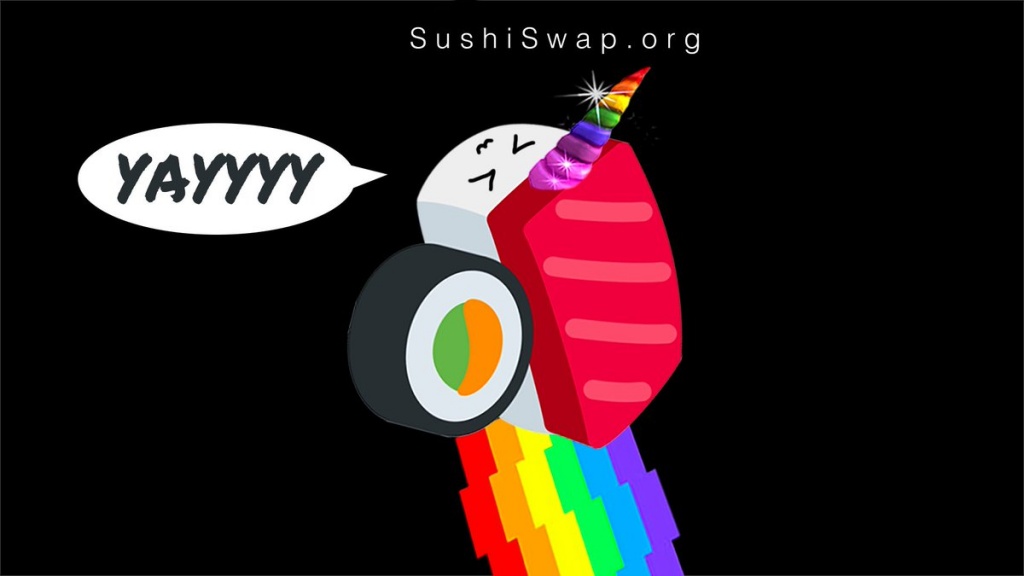 Decentralized exchange (DEX) Uniswap has barely enjoyed the spotlight under the recent DeFi craze before a significant contender appeared last week, named Sushiswap. While its name seemingly reflects some buffoonery in a market where dozens of DeFi protocols and tokens are created and then dumped shortly after on a day-to-day basis, the statistics show that Sushiswap is anything but a farce. Just three days after its release, the total value locked (TVL) on the protocol has smashed through the $700 million mark.
Sushiswap was designed as an improvement to Uniswap and provides additional liquidity through its own proprietary token, the SUSHI. Uniswap offers a 0.3% pool reward on trading fees which is then proportionately distributed to members of the pool, but Sushiswap is raising the stakes by providing 0.25% reward which goes to all pool members, while the remaining 0.5% is converted into SUSHI to be distributed to SUSHI holders, incentivizing those on the Sushiswap platform to make a switch. In its second phase, staked Uniswap Liquidity Pool (LP) tokens will be migrated into Sushiswap contracts.
"With SushiSwap, one can also provide some liquidity into a pool and earn rewards in the form of SUSHI tokens. However, unlike Uniswap, those SUSHI tokens will also entitle you to continue to earn a portion of the protocol's fee, accumulated in SUSHI, even if you decide to no longer participate in the liquidity provision," the announcement notes.
The project, however, has garnered some negative attention from advocates and experts in the DeFi space.
"I usually don't opine about specific projects, but if I'm being honest, I hope this SushiSwap experiment fails. Forking liquidity will make swap prices worse for all users and make impermanent loss worse for all LPs. The only beneficiaries are the Sushi founders," said Brendan Dharma, co-founder of Dharma HQ, in a tweet. "I'm just hoping the liquidity moves back to a single pool, as that is what's best for trade quotes and LPs."
In the last five days alone, the growth seen on Uniswap has also been staggering as the TVL locked on the platform reflects a gain of 500% since August 27, according to data from DeFi Pulse.
Cover image courtesy: SushiSwap Twitter
You may also want to read: Move over Centralized Exchanges, the DEXes Are Here