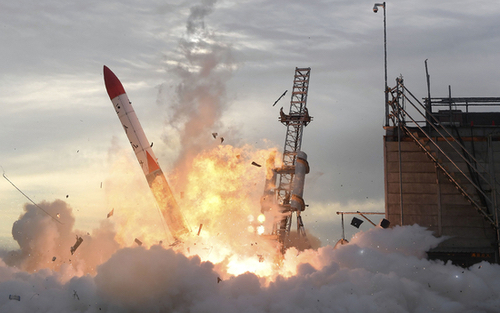 The lingering fear of the ongoing COVID-19 pandemic and uncertainties in the market has led to another round of major sell-offs. US stock markets took a nosedive across the board with the Dow Jones Industrial Average (DJIA) bleeding heavily, closing at -6.90% compared to the previous day, and S&P 500 (SPX) followed with -5.89%. NASDAQ (NDX) briefly managed to create a new all-time-high (ATH) on June 10 at 10,155 points, but has since plunged -4.63% along with other equity markets. The Volatility Index (VIX) shot up 46% indicating more volatility to come across the markets.
On the commodities side, WTI Crude Oil futures fell 8.69% to $36.16 USD/Barrel. However, the safe-haven asset, gold, remains strong as its price shot up to $1,753 USD/oz before cooling down to $1,730 level. 
The cryptocurrency market experienced similar sell-offs with a 5-10% decrease in value across the board.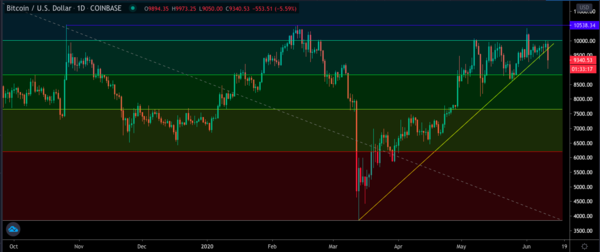 After Bitcoin (BTC) failed to break above the formidable resistance at $10K and plunged to a lower $9K level, the next support lies at $8,838, according to the Fibonacci Retracement. If the support holds, the overall price structure would shift to a short-term sideways consolidation before Bitcoin can gather enough strength to retest $10K once again.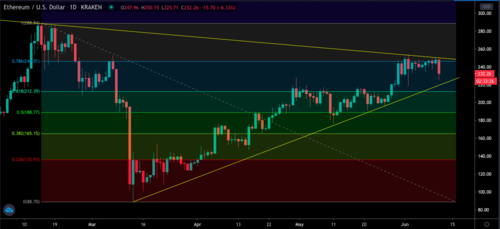 Ethereum (ETH) also failed to break above the suppressive down-trend and is now back in the trading range inside the symmetrical triangle. The lower line of the triangle still can provide some form of support and Ficonacci's support remains at $212. The overall price structure of ETH looks very much intact, with a high chance to break out of the contracting range to test $288.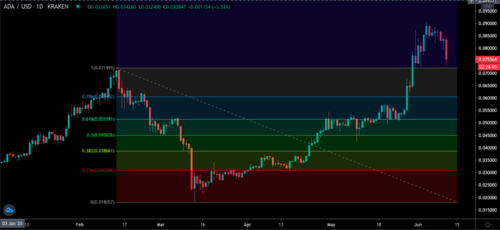 Cardano (ADA) is one of the biggest losers in the high-cap altcoins family, plunging more than 10% in mere hours before bouncing back slightly. However, the Fibonacci support target at $0.071 can provide a good buying opportunity. If ADA manages to bounce back, do consider taking some profit at $0.105 which is another major Fibonacci resistance.

The SCN30 Index dropped 9.25 points to the weekly low of 154.13 points. Top losers are CRO -10.31%, XTZ -8.14%, and ADA -7.94%. The cryptocurrency market became correlated with the stock markets once again. Therefore, if the traditional market continues to go down, brace for more impact on the digital asset side as well.
Disclaimer: This analysis is the view of the author's alone, and does not in any way represent trading advice. all traders should trade at their own risk.
You may also want to read: Top Performing Altcoins Technical Analysis: ETH, ADA, XLM, LINK