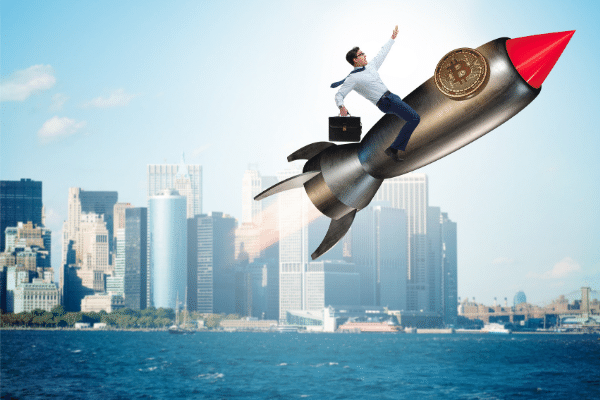 Inexplicable Bitcoin rally said to have been fueled by Fed Chairman Jerome Powell's comment that the U.S. central bank has "no intention" to ban cryptocurrencies 

Prospect of regulation of stablecoins and no imminent ban of cryptocurrencies in the world's largest economy used to explain recent rally in cryptocurrencies
The sudden jump in Bitcoin's price last week, even as equities and risk assets struggled amidst a worsening energy crisis has left analysts turning to tea leaves, goat entrails and tarot cards to try and piece together a possible explanation behind the explosive rally.
Likely though, the most plausible explanation behind the recent rise in Bitcoin is the simplest one – that's cryptocurrency for you.
As any seasoned cryptocurrency trader will attest, the fractionalized and decentralized market for cryptocurrencies make them particularly susceptible to volatile price swings in either direction and vulnerable to being championed by any narrative that gains popularity.
Some have suggested that U.S. Federal Reserve Chairman Jerome Powell's comments on Thursday, that the central bank had "no intention" to ban cryptocurrencies was behind the sharp rally, while the technical analysis-inclined suggested that the push past closely watched price levels and moving averages was responsible.
Seasonal bullishness may also factor in, as some have noted that October has tended to be a typically buoyant season for cryptocurrency markets, signally a shift to risk-on trading in cryptocurrencies for the next few weeks as investors rotate out of stocks and bonds into more non-traditional assets.
Cryptocurrencies had been trading sideways for weeks, with robust regulatory action from the U.S. Securities and Exchange Commission and the U.S. Commodity Futures Trading Commission putting a damper on sentiment.
But the pronouncement by Powell at a Congressional hearing on Thursday, that the central bank wasn't going to ban cryptocurrencies, but might regulate stablecoins helped to turnaround sentiment.
Regulating stablecoins would be a welcome move for the cryptocurrency sector, which relies heavily on the digital halfway house between fiat and cryptocurrencies to execute everything from decentralized finance or DeFi, to sitting out market volatility and waiting for buying opportunities.