Author: Pattrick Tan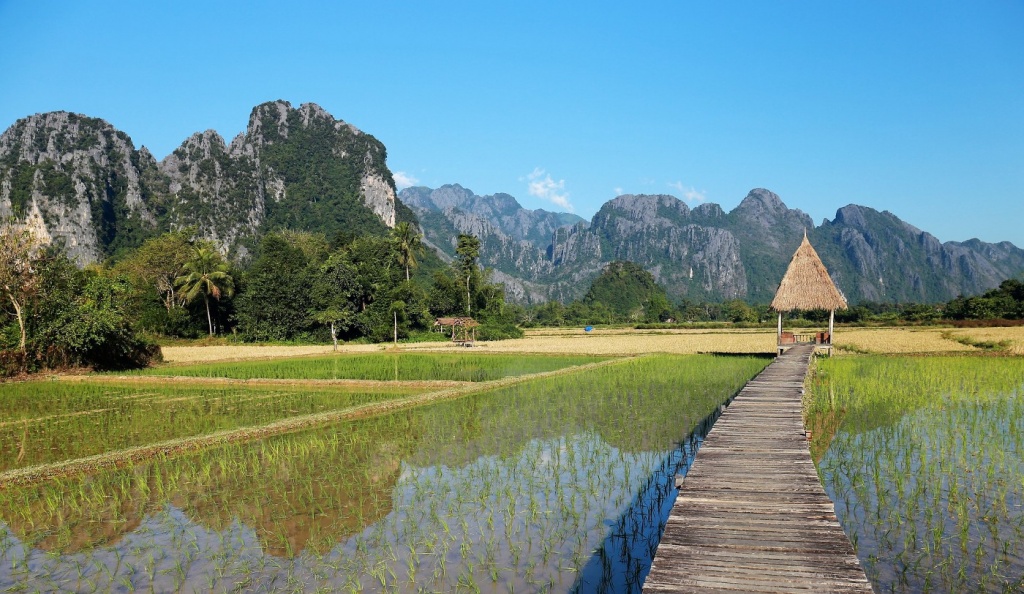 The first thing that hit James Forester about Vang Vieng, a picturesque town in Laos, north of the capital Vientiane, wasn't the idyllic scenes of rice fields, or the rolling hill country along the Nam Song River — it was that unmistakable scent of hash.
Having served two tours as a platoon sergeant in Vietnam, Forester, now a retired school teacher, was making his way across what was formerly French Indochina, taking in the pastoral beauty of the land his colleagues once bombed into the stone age.
Riding through the semi-deserted dirt-paved streets of Vang Vieng, it seemed as if every other shop was selling some form of hash-based product.
Brownies, cakes and pastries were on offer and there was no shortage of well-tanned backpackers smoking joints.
If marijuana was illegal, the authorities clearly forgot to inform the shopkeepers in Vang Vieng.
Forester parked his bike outside a dilapidated coffeeshop, ordered a joint and sat back in his chair.
Lighting up, he allowed the embers to grow a deep orange as he inhaled deeply from his spliff.
When the obviously underage waitress came for the bill, Forester was somewhere between being truly baked and pleasantly euphoric.
Reaching into his jacket to find some Lao kip to pay the waitress, he fumbled and struggled to find it, when he realized that he had left it at the hotel.
No matter, he was sure he had some currency on him somewhere.
Rifling through his pockets, he found Vietnamese Dong, Thai Baht and Malaysian Ringgit, but not a single Lao Kip or even a U.S. dollar to speak of.
But if the young waitress was upset or irritated, she didn't show it — such was the warmth of the Lao people.
Instead, her father who was asleep behind the cashier counter, just told him in broken English that he could come back tomorrow and pay.
And while Forester insisted that they take the equivalent in Dong, Baht or whatever random southeast Asian currency he had stuffed in his pockets, the kind proprietor of the fine hash establishment indicated to him that unless he had Lao Kip or American "dollahs" as he pronounced it, he could just come back and pay tomorrow.
For Forester, or indeed any visitor to Southeast Asia, the experience of having to deal with so many different currencies across a single region is not unique.
Southeast Asianing
Covering a territory of over 1.7 million square miles or just over 3% of the earth's total land mass, Southeast Asia is home to over 655 million people, or about 8.5% of the world's population.
An ethnically diverse region, Southeast Asia has no less than 11 different currencies and hundreds of languages are spoken by a plethora of different ethnic groups.
To say that Southeast Asia is diverse is to put it mildly.
But that hasn't stopped increasing integration within the region.
Despite numerous tensions and conflicts between neighbors, unlike their European counterparts, no Southeast Asian country has ever declared war on another, nor invaded the territory of another.
And that amicability between Southeast Asian nations has fostered strong regional ties and institutions like the Association of Southeast Asian Nations, or ASEAN.
A regional intergovernmental organization comprising ten countries in Southeast Asia, ASEAN facilitates several levels of integration among its members, but economic integration has been slow to come.
Comprising a spectrum of rich, middle income and desperately poor countries, Southeast Asia's economies are as diverse as its geography, people and languages.
And while it has long been a dream of Singapore, one of the founding members of ASEAN, to develop a more unified economic zone for Southeast Asia, perhaps akin to the E.U.'s European Economic Area — that level of integration has proved wanting.
All that could change though.
Because while Facebook's embattled digital currency project, Libra, may have found strong resistance from regulators in western economies, it's found a friend in Singapore's powerful sovereign wealth fund Temasek.
The move to add Temasek comes as Libra attempts to win over the hearts and minds of regulators outside of the west and push the digital currency project forward, revising plans for the release of a digital coin and dialing back some more politically-objectionable features.
Libra as it currently stands is no longer an outright digital currency project, but closer to a digital payment system — functionally similar to Alibaba's AliPay and Tencent's WeChat Pay.
But that doesn't mean that the foundation for a future Libra digital currency may not have already been laid.
Far from one to back down when challenged, Facebook has repeatedly demonstrated its resolve whenever its core executives (read "Mark Zuckerberg") decide on a particular path.
And Southeast Asia may be the best place for Facebook to make a run for the money (pun intended).
Facebook Has Friended Southeast Asia
With over 376.3 million Facebook users in Southeast Asia alone in 2019, a number that is steadily growing, Facebook has become the dominant method by which much of the region stays in touch, gathers news and in places like Myanmar, understands the internet to be.
In Myanmar's capital Yangon, to go on the "internet" means to go on Facebook.
And because remittances contribute so significantly to GDP in many Southeast Asian countries (in the case of the Philippines, it's estimated that overseas remittances make up for as much as 10% of GDP), it would be extremely beneficial to reduce the friction and costs inherent in money transfers.
With millions of overseas workers, many Southeast Asian countries rely on the inflow of overseas remittances to drive their domestic economies and as a source of hard currency.
But because many of these remittances are for very small amounts, the amount of fees paid as a percentage of the value remitted can be staggering — as much as 10% in some corridors according to a study by the World Bank.
And given that over half of all Southeast Asians are already on Facebook, a natural extension of Libra as a payment gateway across the region would be a step towards economic integration that would otherwise be riddled with political overtones.
To be sure, while Singapore may be the commercial and economic hub of Southeast Asia, rich beyond the dreams of avarice, it's also the tiniest member of ASEAN, yet still manages to punch well above its weight.
Promoting greater economic unity in ASEAN naturally benefits Singapore's status as a trading port and center for capital markets, more so perhaps than its far larger neighbors.
And proposing a unified ASEAN currency, which would entrench Singapore's pre-eminent position as a regional and global financial center, may grate on the political sensitivities of its neighbors, which are not immune to periods of nationalism.
But perhaps Facebook's Libra could offer a middle path.
Walking the Middle Path
With the potential for direct peer-to-peer remittances via Facebook's already popular app, foreign domestic workers in Singapore could send not just photos and videos home to the Philippines, Indonesia or Myanmar, but money as well.
In a statement regarding Temasek's decision to join Facebook's Libra, Temasek International Deputy CEO Chia Song Hwee said,
"Our participation in the Libra Association as a member will allow us to contribute toward a regulated global network for cost effective retail payments."

"Many developments in the space excite us. We look forward to further exploring the potential of the technology."
But it's not just the potential to reduce remittance costs — the bulk of which is given up to already rich western companies — there are more pressing reasons for economic and currency integration as well.
Another tsunami is waiting to sweep across much of Southeast Asia that may foster greater currency and economic integration, not by choice, but by necessity.
In the earlier part of 2020, away from global headlines, financial markets in Southeast Asia were in turmoil, with many of the regions currencies, particularly the Vietnamese Dong, Philippine Peso and Indonesian Rupiah, weakening sharply against the dollar.
And while many of these currencies have since recouped some of their losses versus the greenback, they are still well off their pre-crisis levels.
Because the economies of Southeast Asia have been humming along in the 12 years since the last financial crisis, indebtedness has risen as well.
At a time when most Southeast Asian currencies showed strength versus the dollar, robust economic growth and a rising middle class prompted many non-financial corporations to take out vast amounts of dollar-denominated debt.
Today, those chickens have come home to roost.
This year alone, an estimated US$150 billion of dollar-debt is maturing — at a time when the dollar is very strong and the coronavirus has wiped out cash flows of heavily indebted corporations with struggling cashflows.
If investors' risk appetites should take a plunge because of multiple stresses from other emerging market economies, it will become increasingly difficult for Southeast Asian firms to refinance their debts — in particular their dollar-denominated debts.
There's also the issue that a high proportion of Southeast Asian financial assets are foreign-owned.
Over the past decade and a bit, record low interest rates saw investors from rich countries in the west, hunt for yield.
And with eye-watering growth rates in Southeast Asia, between 6% to 8% for Indonesia, Vietnam and the Philippines, investors naturally gravitated towards financial assets in these emerging Southeast Asian economies.
A sudden reversal in risk appetite could bring about a substantial withdrawal of capital, causing Southeast Asian currencies to fall sharply and triggering a loss of confidence.
That could prove to be a potential feather in Libra's cap, if it intends to launch its own mini-digital currency for the Southeast Asian region.
Outside of Singapore, trust in government institutions among most Southeast Asian countries remains low, Libra could make inroads among citizens who are whipsawed by the instability of their national currencies by offering a viable means not just for payment, but perhaps eventually towards a unified trans-regional currency.
For now though, the prospects of such cohesive economic measures seems in the realm of speculation.
Yet if politicians were to consider the benefits not just to their populations, but to their tax revenues of a pan-Southeast Asian digital currency, whether led by an intergovernmental push to issue one or by Facebook itself, perhaps such dreams of regional unity may not be as far-fetched as they sound.
It's not as if Facebook is an unfamiliar face (pun intended) in these parts.

Remark: This article first appeared on The Capital and is hereby republished with permission by SuperCryptoNews .