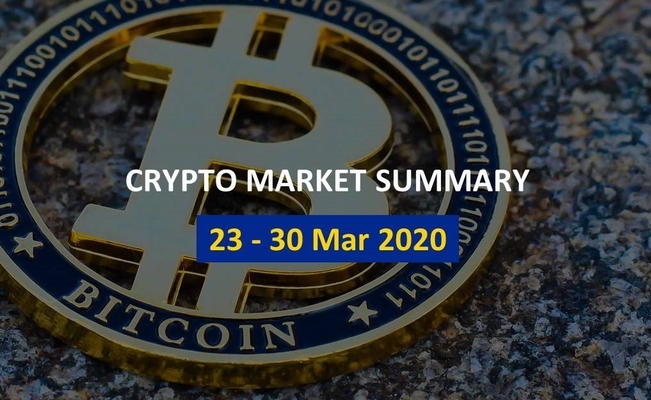 The COVID-19 pandemic is starting to take its toll on the world economy, as the impacts were felt across the board as early as the beginning of March. The current selling pressure in all sectors is unprecedented, even gold which is considered by many as a safe-haven asset is suffering a miserable fate. Only the Volatility (VIX) and Dollar Index remain on the upside, reflecting that fear has taken its grip on investors as they have pulled out from most of their investments and are choosing to sit on cash.

Bitcoin, as young and volatile as it is, plunged more than 60% from a 2020 high of $10,500 down to a swing low at $3,850 in just a matter of days. Currently, Bitcoin is being traded at $6,000 levels after failing to regain an important foothold at $6,400.
The SCN30 index representing a basket of curated 30 high market cap altcoins also took a nosedive from its yearly high at 206.48 points to 94 points at the time of writing.
Explore our SCN30 Index Here

Bitcoin back to an ATH in 2020?

Looking at the bigger picture, the Elliott Wave theory suggests that currently Bitcoin has just finished the 2nd wave in an A-B-C correction. Following the 2nd wave comes the 3rd impulsive wave to the upside which is often the longest wave. The recent C wave brought the price down to $3,850 but did not break the previous low at $3,200. The higher low suggests that the correction is now over and the 3rd impulsive wave will begin.

Another theory is possible is that Bitcoin is already in the uptrend of a bigger impulsive 3rd wave cycle which comprises five smaller waves. The recent price drops were just the smaller 2nd wave which has come to an end and now we are entering a smaller 3rd wave upward.

Bitcoin managed to bounce from a long-term support trend line which can be dated back to 2017. Despite a wick breaking below the support line, it was short-lived as buyers stepped in and pushed the price back up above the trendline again.
MACD oscillator also shows the sign of reversal as it is coming back to the upside. The fast-moving 50 days EMA is currently trending below the slower 200 days EMA. Nevertheless, the 50 EMA could once again come back above the 200 EMA as the market recovers.

Judging simply from technical price analysis alone, it seems that Bitcoin is in a redistribution phase before possible going on another major uptrend. How far Bitcoin can go is now in the hands of fundamental factors and market sentiment.
You may also want to read: Financial Crisis: The Beginning and the End of Bitcoin?