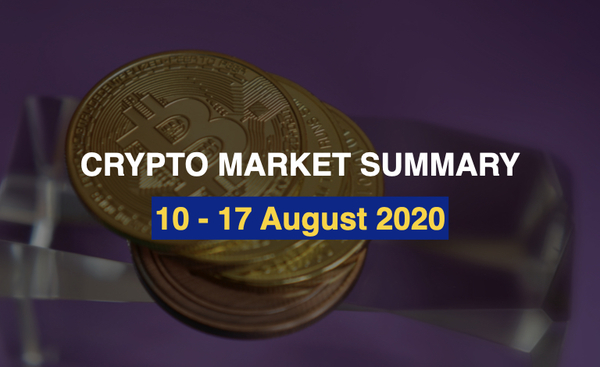 Since its inception, Bitcoin has always been deemed a high-risk asset for its high volatility. However, in 2020 things look like they are about to change as Bitcoin is showing signs of maturity as follow:
Reduced in Volatility
Bitcoin was one of the most volatile assets since its creation back in 2009. The double-digits price swings in one day – or even minutes are not a rare sight. In 2020 we still witnessed the high volatility when the price of Bitcoin flash crashed during the mid-March pandemic sell-off, however, since then Bitcoin has been on a steady rise with gentle volatility fluctuating only in low single-digit.
Speculators who were attracted to the crypto market by its volatility might find this unappealing. This is one of the reasons why derivatives exchanges are gaining popularity as speculators and short-term traders flock to those platforms where they provide higher risks with 100X or even 250X margin trades.
In turn, the shrinking volatility opens a new door for conservative and long-term investors who are looking for a value investment opportunity instead of a quick cash-grab.
Looming Institutional Investors
During the brief history of cryptocurrencies, a large majority of investors are coming from the retails. Even so, in the past few years, we have seen the presence of institutional investors stepping into the space. The most prominent is inarguably Grayscale, who is offering Bitcoin and other major cryptocurrencies funds and globbing up massive amounts of Bitcoin from miners as the demand rises.
In addition, the Office of Comptroller of the Currency (OCC) gave a green light to all nationally chartered banks in the US to provide custody services for cryptocurrencies. The custody service is much needed as large investors need some sort of insurance to guarantee that their investments will be safe and securely stored from any potential attacks and harmful activities.
Regulated Derivatives Exchange
The Chicago Mercantile Exchange (CME) and the New York Stock Exchange (NYSE)'s subsidiary company BAKKT have provided an institutional-grade recognition of the digital asset class. The growing open interests as well as rising volume and demand on financial products such as options and futures are reflecting the appetite of larger players in the crypto-asset sphere.
Bitcoin Technical Analysis
Bitcoin (BTC) is now attempting to reclaim $12,300 which was a previous high dating back to August 2019. Breaking above the said level with a decisive volume will allow BTC to aim for the next target at 161.8 Fibonacci's level at $14,700 and subsequently create a major higher high.
In the short-term, Bitcoin is looking bullish as the price is still riding on the EMA9 and EMA25. Another retracement back to the previous resistance at $10,500 is still very much possible as it will confirm that the resistance level has turned into support. The rising yellow trendline is also indicating the bullish momentum of BTC as well as providing last-stand support, breaking below this would flip the market into bearish mode once again.
The Buy-On-Dip strategy is recommended when the uptrend is clear. With the price continuing to rise, Bitcoin some time dips to shake out weak hands. Nevertheless, the dip should never close below the aforementioned support levels and a bullish price structure should not be broken.
The SCN30 Index is now entering a sideways consolidation period after a 2-week straight run-up to an all-time-high (ATH) at 251 points. The crypto market is now in a cool-down stage with exceptional projects such as ChainLink (LINK) and Band Protocol (BAND) which both are aggressively pushing for new ATHs. ChainLink rose 5 positions in the SCN30 Index and now ranked number five above BSV and right below BCH.
Read more: ChainLink Blast-Off to the Blue Sky Territory, Reaching a New ATH at $14
Disclaimer: This analysis is the view of the author's alone, and does not in any way represent trading advice. all traders should trade at their own risk.
You may also want to read: A Case for Bitcoin: US Fed Proposes Lower Interest Rates & Higher Inflation Policy