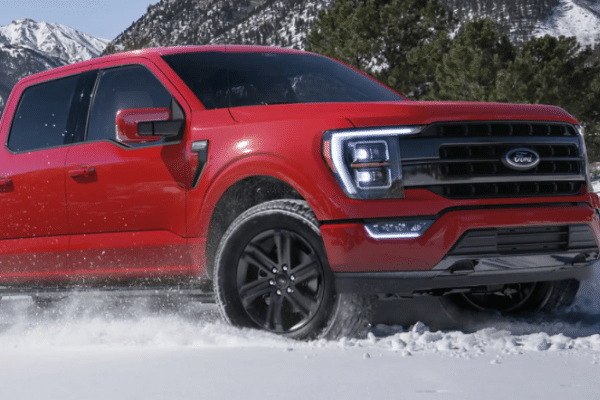 Ford Motor Company (+3.14%) betting its electric vehicle future on the highly popular F-150 electric truck

Ford may have a leg up on other competitors, with its F-series of trucks the top selling vehicle in the U.S. and by using an existing frame and electrifying it, helping to shave off production costs and allowing for an attractive entry-level price for the all-electric F-150
When it comes to electric vehicles, Tesla (+04.14%) embodies, climate-consciousness in a cool car-like package.
And while legacy automakers rushed to roll out their own electric cars, gunning after Tesla's brilliant Model 3 and Model S, Ford took a different road, to create an electric truck as its flagship for electrification.
With two electric motors giving Ford's new electric F-150 pickup 563 horsepower, Ford's Cybertruck-killer can propel its 6,500 pound weight at sports car speed and still tow up to 10,000 pounds.
By the time Ford's electric F-150 goes on sale in the middle of next year, it will have to faceoff not just Tesla's Cybertruck, but General Motor's (-0.04%) Hummer and Rivian Automotive's R1T as well.
But the F-150 isn't just any truck, it's Ford's golden goose, critical to the company and which belongs to a family of F-Series trucks that generated US$42 billion in revenue last year, accounting for the bulk of Ford's profits.
And if early sales are anything to go by, demand for the electric F-150 should be robust, with Ford CEO Jim Farley telling Bloomberg Television in an interview yesterday that over 20,000 orders were received in the 12 hours since the truck was announced.
As the best-selling vehicle line in the U.S. for four decades, Ford's F-Series of trucks has an enviable brand loyalty, one that Ford isn't taking for granted and which would explain why externally, the electric F-150 doesn't look all that different from its fossil-fueled forebears.
Unlike the divisive-looking Cybertruck from Tesla, the electric F-150 looks just like a regular F-150 and more importantly, is expected to cost as much too, starting at just under US$40,000.
Yet Ford's competition may not even come from Tesla, but it's arch-rival General Motors, with the latter promising its electric Silverado pickup putting out 400 miles of range versus Ford's 300 miles for buyers who pay extra for an extended range battery.
But GM's electric Silverado doesn't debut till 2024, more than enough time for Ford to make range improvements, like Tesla did with its early electric vehicle models.
And Ford is using a clever method to make money on every electric F-150 it sells – keeping intact much of the truck's design, including its aluminum body and cab, instead of doing a ground up redesign and helping to keep its starting price low, unlike what Tesla and General Motors have done.
With a dogged focus on pitching the all-electric F-150 to fleet buyers, at a time when the Biden administration has pledged to electrify all government fleet vehicles, the Ford F-150 could be a gamechanger, whether it could be a Tesla Cybertruck killer or not remains to be seen.