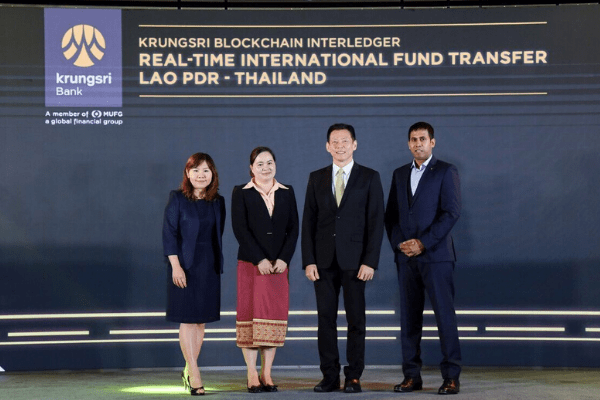 Krungsri bank has introduced Krungsri Blockchain Interledger, which allows customers to transfer money from Thailand to Laos and vice versa in a fraction of the transfer time.
Normally, it takes 1–3 days to complete the transactions. The service supports both Thai baht and US dollar. Krungsri Research expects Laos to record GDP growth of 6.4% in 2019 and 6.5% in 2020. When looking into Laos' Foreign Direct Investment, the number of Thai investors is increasing.
Dan Harsono, Krungsri's head of retail and consumer banking, said as trade and investment between Thailand and Laos continue to grow, Krungsri has deployed financial innovation to support bilateral trade between the two countries. He said the Krungsri Blockchain Interledger helps Thai and Laos entrepreneurs transferring funds within a few seconds, which normally took 1-3 business days.
Krungsri has two branches in Laos, one in Vientiane and one in Savannakhet. It is reported that the service was first used in oil trading transactions between IRPC and its Laos business partner, Bua Sawan Energy.
Harsono suggested that Thailand is among the top foreign investors in Laos, adding that the introduction of Krungsri Blockchain Interledger will help boost business sectors in both countries.
You may also want to read: