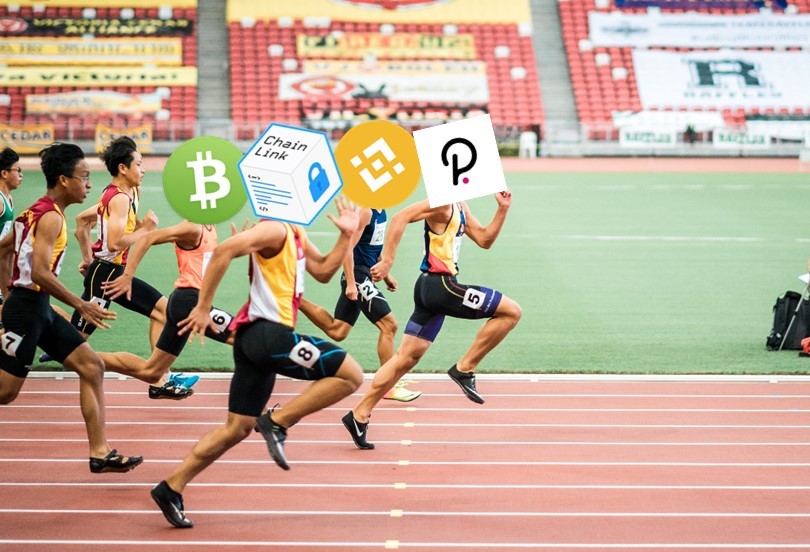 It was not too long ago when top DeFi token by market capitalization, Chainlink (LINK), overtook not only Cardano (ADA) and Bitcoin Cash (BCH) in sixth and fifth positions respectively to place fifth on the Top 100 cryptocurrency tokens list. LINK has experienced consistent growth throughout the year and remained unfazed even through last week's crypto rout, with a majority of DeFi tokens, and even Bitcoin (BTC) and Ethereum (ETH) taking hits. DeFi tokens in particular lost approximately 20-50% across the board in less than 24 hours, but LINK managed to gain 10% in the same period.
In a surprising turn of events, it is now LINK's turn to be pushed down the list to sit in seventh place now as the Binance Coin (BNB) and rising star Polkadot (DOT) which smashed its way through into the top 10 only last week, surpassed LINK overnight. According to CoinMarketCap, DOT is currently in the fifth place and BNB is in sixth place, while LINK and BCH are in seventh and eighth place respectively. On CoinGecko, the rankings are slightly different with LINK in sixth place, BNB in seventh place and BCH in eighth place.

Referencing the data from CoinMarketCap, DOT reached a weekly-high of $5.37 from a low of $3.95 on September 6, marking an increase of almost 30%. BNB, on the other hand, went from $20.32 on September 8 to reach $32.32 today, recording a 59% overall gain in a single week.

While no single event has been identified as a catalyst for the growth of both tokens, several project and business developments across both DOT and BNB could have precipitated their recent growth. For DOT, experts have attributed its popularity to a feature called 'redenomination', which is more commonly used in domestic currency circulation policies or can be compared to a stock split, the stock market's equivalent. The supply of circulating DOT was inflated a hundred fold, where each DOT token is split into 100 different ones.
Binance has made much significant progress in its product offerings in the past two weeks especially in the DeFi space. It has introduced futures contracts for DeFi tokens under its DeFi Composite Index, and also launched Liquid Swap last week to cater to yield farmers and traders looking to cash in on the DeFi craze.
You may also want to read: Band Protocol Partners Velo Labs, Focusing on Digital Credit Issuance and Cross-border Payment in Asia-Pacific