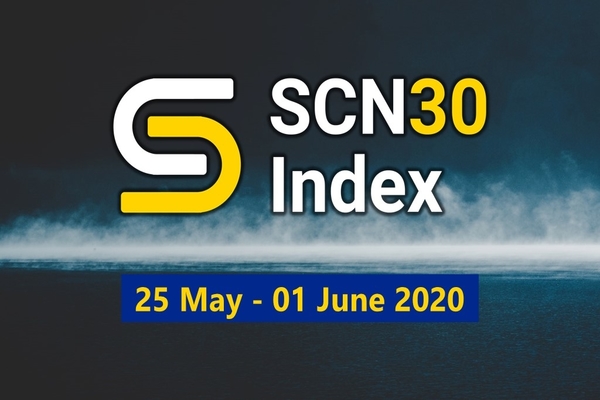 Above: Screengrab of SCN30 graph here.

Bitcoin took a beating last week and as Bitcoin goes, so go the alts, with the SCN30 falling to a weekly low of 138.96 points. 
Bitcoin struggled to clear the resistance at US$9,900 and the SCN30 was no different, testing the strong resistance at 150 but retracing after the level wouldn't clear. 
But all is not lost, the SCN30 continues to maintain its ascending trendline formed since 15 March 2020 and in percentage terms has lost less ground than Bitcoin.
Above: Screengrabs of SCN30 list here.

ADA enters top 10 while XMR and XLM drop 2 positions
Less than a month ago, we covered Cardano (ADA) as one of the rising coins as it transitioned into its mainnet in April. ADA has gained 2 positions since then and entered the top 10 constituents, which also gives it almost 0.40% more weightage in the SCN30 index. Continuing to perform well despite altcoins' volatility, it seems to be on its way on an upward trend.
Monero (XMR) continues to fluctuate between $58 to $66 so far in May, despite its recent controversie and will likely continue to trade within the range.  XMR is still on an ascending trend since mid-March and seems to be accumulating a compression range, testing higher support and lower resistance levels, widening the channel in which it is trading in.
Earlier this month, Stellar Lumens (XLM) made news for breaking a significant Kumo resistance level since 2018 but continues to test its resistance of US$0.075. XLM, however, fails to break the price and drops by 2 positions on SCN30. Despite that, the sentiments on XLM are still positive as the payment protocol's cryptocurrency proves its utility and mass adoption efforts with a recent Abra integration. 
You may also want to read: Interest Rate Goes Negative – Is It Time to Buy Bitcoin?