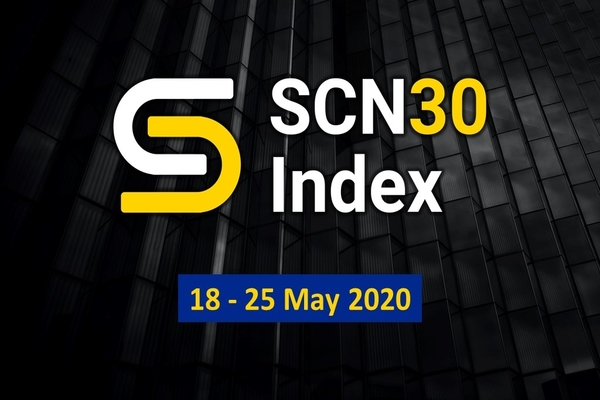 Above: Screengrab of SCN30 graph here.

What a week it's been in the digital asset markets but it's not quite Altseason just yet. A volatile week for Big Brother Bitcoin has seen similar volatility for the Alts with first sibling Ethereum roaring ahead in terms of percentage terms far more than Bitcoin.
But Ethereum's gain was insufficient to lift the entire SCN30, which saw losses being clawed back but ending the week down.
The SCN30 index rose by 7 points, hitting 140 points today. While the index is on an upwards trend since its lowest at 80 points in mid-March, it is still at least 60 points away from the year's highest in mid-February.
Betting on BTC's post-halving surge
From 9th May, two days leading up to the third BTC halving which happened on 11th May, SCN30 was at week-lowest of 130 points. This suggests that altcoin holders could possibly be selling to buy BTC in preparation for a surge post-halving, as the upward trend took off right after the event, continuing altcoin's momentum.
Above: Screengrabs of SCN30 list here.
XMR Resilient, LEO Drops Falls & OKB Surges Ahead
It just goes to show you can't keep a good cryptocurrency down. Despite a recent delisting of Monero (XMR) from Bithumb, Monero rises two spots on the SCN30, controversy over its utility be damned. But then was Monero ever really a utility token? The jury may be out but the investors are in and Monero hops two spots on our index.
OKB rises two spots as volumes across the board soar on a range of cryptocurrency exchanges in the wake of the coronavirus crisis. With more people than ever confined to their homes and the usual venues for speculative fever such as professional sports evaporating, punters have taken to cryptocurrencies and we expect that exchange-based tokens will continue to be strong performers.
You may also want to read: Institutional Investors to Flip the Fate of Bitcoin