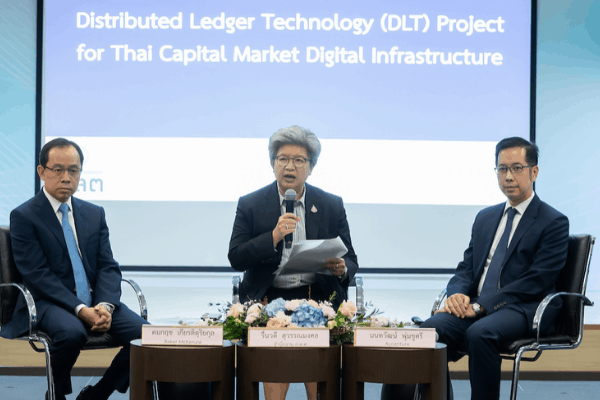 The Securities Exchange Commission (SEC) of Thailand recently introduced its master blueprint for the Thai capital market with a focus on the utilization of distributed ledger technology (DLT) to create a digital infrastructure. The blueprint aims to get the benefits of blockchain to develop a digital infrastructure for the capital market. The technology will be applied to the private bond sector as a pilot project, says the SEC.
Ruenvadee Suwanmongkol, secretary-general of the SEC and acts as chair of the working group for the Digital Infrastructure of Capital market, said the blueprint helps the SEC see the overall picture of the use of blockchain technology in various processes in the Thai capital market, ranging from offering to bond trading, SME stocks, funds, and futures. She added that the technology will also cover the issuance of bondholder registration license, bond deposit, and dividend payment. 
Ruenvadee also said that bond trading through private players requires higher costs with complex processes and takes a long time to implement. With the DLT, all processes can be optimized, transparent, efficient, and faster.
The initiative of using blockchain to optimize the capital market digital infrastructure was announced to the public on September 3, 2019. Now, it is about time to roll out a pilot project, starting with private bonds.
The project is in collaboration with various organizations and market participants such as the Fiscal Policy Office, ASCO Training Institute (ATI), the Association of Investment Management Companies (AIMC), the Thai Bond Market Association (TBMA), the Thai Bankers' Association (TBA), the Association of International Banks (AIB) as well as Accenture Solutions and Baker & McKenzie.
You may want to read: