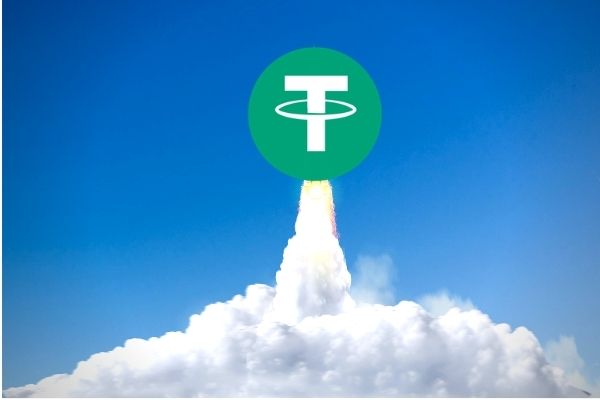 According to Bloomberg's Crypto Outlook Report entitled "Bitcoin Trend, Adding Zeros", the world's largest stablecoin Tether (USDT) is primed to surpass the crypto market's second most capitalized asset, Ethereum (ETH) by this time next year. Currently, ETH has a market cap of $43 billion USD, while USDT recorded an all-time-high of $16 billion in October this year.

With the growing demand for stablecoins to bridge the gap between the crypto and fiat market, especially in times of economic turbulence, USDT experienced precipitous growth this year. If the popular stablecoin continues along this trajectory and ETH remains stagnant, USDT may well be on its way to becoming the second largest digital asset in the market by next year. Bitcoin may be the most popular cryptocurrency asset of all time, but USDT is a necessary medium the crypto market cannot do without.

"As the most stable, liquid and trusted stablecoin, it is powering so much innovation in crypto at the moment. Tether is lubricating many of the powerful protocols that Ethereum has given birth to, such as those in DeFi. Of course, we don't see ourselves as competing with Ethereum. Nevertheless, eclipsing Ethereum's market capitalization, which currently stands above US$40 billion, will be a powerful statement," said Paolo Ardoino, CTO at Tether.

USDT is live not only on the Ethereum blockchain network but also on other major ones such as Algorand, OMG and most recently Solana, just to name a few. However, USDT has enjoyed great success on Ethereum with the emergence of DeFi, as an overwhelming majority of DeFi protocols are built on the Ethereum blockchain. Traders and liquidity providers often turn to USDT when they are looking at a stablecoin asset.

The only obstacle in USDT's path to dethroning Ethereum is perhaps Ethereum's growth. With the upcoming implementation of Ethereum 2.0 and the many new offerings and changes that the upgrade may offer, the ETH2 launch may just be the catalyst for an explosive spike for ETH demand in the near future.
You may also want to read: Tether (USDt) Launches as First Stablecoin on Solana, an Ultra High-Speed Layer 1 Blockchain