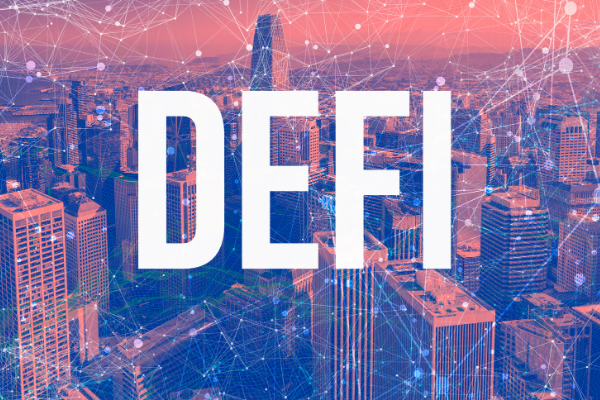 Without a doubt, 2020 has been a year of merry-making for the decentralized finance (DeFi) market based on the boom it has experienced. Therefore, we have all the reasons why we ought to make a toast for this sector because it has brought the crypto space in the limelight.

But first, you may ask what is DeFi?
DeFi is ideally a bridge between the traditional currency like paper money and decentralized cryptocurrencies like Ethereum (ETH) and Bitcoin (BTC), which are the new kid on the block in the financial scene.
With DeFi in mind, developers create conventional financial applications (apps) using blockchain technology and a decentralized network. Decentralized applications (dapps) are the most common in the DeFi arena as they come in handy in determining decentralized metrics and data. Most dapps are founded on blockchain networks like Ethereum, which avails the option of utilizing the native cryptocurrency to develop blockchain applications.

Some of the benefits that dapps bring to the table include minimized human interference, inclusivity and borderlessness, open-source coding, and development flexibility. These advantages explain why the top 10 dapps on the Ethereum blockchain surpassed 1 million daily users in November. Precisely, 6 of the top 10 fell under the DeFi and exchange dapps category. It, therefore, shows that dapps are a force to reckon with in the decentralized finance space.

The engine behind decentralized finance is blockchain technology, which deploys data privacy and iron-clad security to boost transparency and traceability. The boom in the DeFi is being boosted by the fact that before data is added on-chain, it is tested by thousands of computers spread across the globe. Immutable or tamper-proof storage is guaranteed because once information is added, it cannot be altered.
DeFi experiences monumental growth of 2000% in 2020
The DeFi sector has crafted a name for itself in the blockchain/crypto space based on the boom it is experiencing. New data by DeFi Pulse and CryptoRank Platform reveals that since the beginning of 2020, the decentralized finance sector has been on a rollercoaster ride because it has surged by more than 2000%.

The year 2020 has triggered a tremendous growth in the DeFi sector because, by 1st January, the total value locked up stood at $0.67 billion, but this figure had skyrocketed to $14.74 billion by 1st December.
"Total value locked across the spectrum of smart contracts, protocols and DApps built on Ethereum increased by 32% in November: $11.16B —> 14.74B. Since the beginning of 2020, TVL in DeFi has surged by over 2000%," according to CryptoRank Platform.
Isn't this bull run incredible? Imagine DeFi's total value falls shy of $15 billion, but this figure might soon be surpassed given that the much-anticipated Ethereum (ETH) 2.0, also known as the Beacon Chain, went live on Dec 1. It seeks to introduce a new consensus mechanism called proof of stake, which chooses the next block's validator based on the amount staked or held.
As a result, the rewards reaped by validating blocks will be determined by how much ETH is staked in the network. If you have staked more Ether into the network, this will also increase your chances of being chosen to stake blocks.
Nevertheless, the launch of Ethereum 2.0 hasn't been smooth sailing because a glimmer of hope seemed to be dwindling by the day in early November. Notably, the deposit contract required 524,288 ETH to be staked before November 24, but by then not even 25% of this target had been reached.
This launch, therefore, seemed impossible because to some, a kind of divine intervention was needed. The Ethereum community, however, pulled its socks up and smashed the deposit contract requirement a week prior to it going live. The establishment of ETH 2.0 is one factor linked to Ethereum hitting a multi-year high of $711.
How will DeFi shape up in 2021?
Institutional investors have shown their overwhelming appetite for Bitcoin as huge investments continue being pumped in by corporate giants like Square and MicroStrategy. The DeFi sector is expected to benefit from this wave of institutional investments based on its linkage to the Ethereum network.
The trickle-down impact of Bitcoin's huge investments will be poured down to Ethereum, and the DeFi sector will feel these ripple effects. A recent study by US-based crypto exchange Kraken revealed that investors were bullish on DeFi, Altcoins, and Bitcoin in 2021.
Kraken noted that the popularity of Chainlink, Polkadot, and Ethereum was a reflection of DeFi's rise. Furthermore, this sector has boosted the adoption of stablecoins.
What does this mean? DeFi's growth is not only attributed to Ethereum because it has branched to other blockchain networks. Furthermore, yield farming is emerging to be one of the most sought after services in the decentralized finance space.
It involves leveraging DeFi protocols to generate high return rates, which explains why crypto whales are making notable investments in this area. Yearn Finance is a famous yield farming optimization protocol, given that its token YFI one time hit $38,000 in late August.
DeFi, therefore, has all it takes to shed more light on what the crypto space has to offer because it looks like the sky's the limit for this field. 

---
About the Author