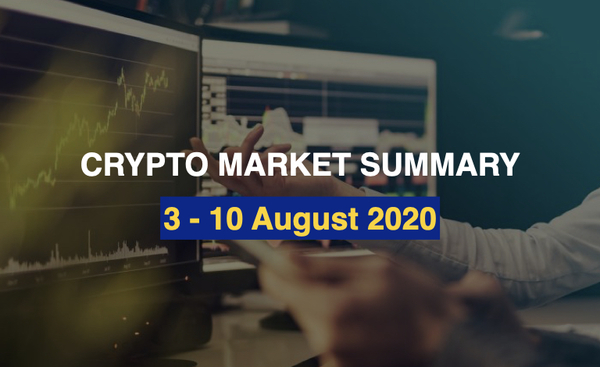 The cryptocurrency market is cooling off after an impressive rally that took us above $10K and beyond for Bitcoin (BTC). Being as overbought as most coins are, a pullback to consolidate strength is much needed at this point. Fortunately, the bull trend structures for major cryptocurrencies are still intact and a continuation in price gains seems imminent.
Bitcoin Technical Analysis
A huge rejection after testing $12,000 has not yet made Bitcoin (BTC) lose its uptrend structure. The $10,500 level, which was a former formidable resistance, has now turned into support. Buyers have stepped in and bought up BTC slightly above this level when the flash crash happened.
The upward supporting trendline in yellow currently dictates the bullish momentum and is also acting as support levels. The Relative Strength Index (RSI) which was highly overbought in the daily time frame has now retraced back down, consolidating more momentum for another leg up.
The multi-month long sideways price action of Bitcoin has finally come to an end and the breakout toward the upside has been made. However, the target of the breakout at Fibonacci 161.8's level at $14,766  has not been reached. Therefore, it can be expected that Bitcoin still has more energy left for another push upward.
Read more: Bitcoin Rally Cut Short After Massive Pull-Back Liquidates $1 Billion Instantly

Ethereum Technical Analysis
Ethereum (ETH) is one of the hottest Altcoins at the moment, smashing through its yearly-high at $287 and continuing to rally to a multi-month high before getting rejected by Fibonacci 161.8's level at $410. The ETH's RSI was also in a highly overbought territory and the current pullback was an essential and healthy movement to cool down the engine.
On the flip side, the parabolic run of ETH has caused a vacuum space underneath. The nearest support is located at $287 while the yellow support trendline is even further below. Trade with caution and be aware of another pullback towards these support levels.
Read more: ETH Surpasses $340 for the First Time in 13 Months
Ripple Technical Analysis
Ripple (XRP) has finally come back to life after being deemed the worst-performing high market cap altcoin of 2019. Going through more than 50% of run-ups in less than two weeks is highly impressive. However, the massive volume kicked in at around $3 level causing the price to fluctuate violently resulting in a Darth Maul wick on the daily timeframe.
The short term support for XRP lies at $0.256 and the next bullish target is at $0.347 which was XRP's 2020 high.

In the high market cap Altcoins, XRP still lacks behind in terms of fundamental development but the longer consolidation period compared to other top 10 Altcoins indicates that XRP still has more room to grow.

The SCN30 Index adjusted slightly lower after reaching a new all-time-high (ATH) at 244.96 points on August 1st. Last week has been a blast for the SCN30 Index as it has grown more than 50 points, the largest move since its inception.
Disclaimer: This analysis is the view of the author's alone, and does not in any way represent trading advice. all traders should trade at their own risk.

You may also want to read: BTC and ETH Breakouts During the Weekend – Major Trend Change for Both?