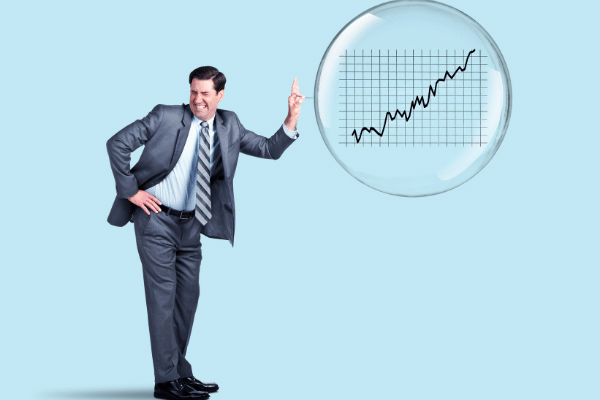 Bitcoin's dominance wanes, leading some analysts to speculate that a bubble is being inflated in more speculative cryptocurrencies
Use cases for other cryptocurrencies far greater than for Bitcoin and the industry is too much in its infancy to draw premature conclusions
Critics of cryptocurrencies slam their lack of use cases, yet when it comes to Ethereum, the world's most heavily used blockchain, they slam its rally as signs of a bubble.
Some are suggesting that parabolic jumps in cryptocurrencies such as Ether, Dogecoin and Binance Coin, which have all outshone Bitcoin, as signs that the entire cryptocurrency sector is ripe for a reckoning.
But naysayers are missing the point entirely.
Each of these cryptocurrencies listed has a role
Ether supports the smart contract ecosystem and decentralized finance or DeFi. Those NFTs you've been hearing about? Built on Ethereum.
And Binance Coin has long been held by crypto-natives to generate yield as well as to reduce transaction fees for trading on the world's largest cryptocurrency exchange by volume.
So what about Dogecoin then?
Well, it's a joke. Nothing more, nothing less.
The same way that someone would pay to attend a comedy club, they'd pay to hold some Dogecoin and laugh it up.
Are they all forms of speculation? Absolutely.
Make no mistake about it, whether you're holding cash or cryptocurrencies you're speculating.
If you're holding cash, you're speculating that your central bank won't debase the face value of your currency and if you're holding cryptocurrencies, you're speculating that the value of cash will decline relative to this nascent asset.
Every minute a speculation is being made, it's just whether or not you're aware of it.
But a note last Friday from JPMorgan Chase (-0.02%) suggests that Bitcoin's waning dominance carries echoes of "froth" to the extent that it's being fueled "by a rally in other cryptocurrencies driven more by retail demand."
Make no mistake about it, the arrival of professional investors into cryptocurrencies in larger numbers is a relatively recent affair.
For the longest time, the cryptocurrency space had been about retail and is likely to tend retail-heavy for awhile, short of comprehensive regulations being rolled out by lawmakers.
What's troubling for traditional investment analysts is that each time they've pointed to stimulus-fueled rallies in cryptocurrencies precipitating a sharp fall, they've only rallied harder.
And Bitcoin's waning dominance may be more a function of investors getting more comfortable with a wider range of digital assets, than a sure sign of a bubble.
Since when did Bitcoin become the "mature asset" of the cryptocurrency industry?
That's like saying that buying any stock outside of General Electric (+0.38%) is signs of a bubble – see how far that gets your investment dollar.